Along with Appalachian State returning to the Big House Saturday will be their fans, who in my experience were top notch back in 2007. Looking back at my react post after the game (don't click there and yes, this site was up and running in 2007) I almost forgot about Shaggy: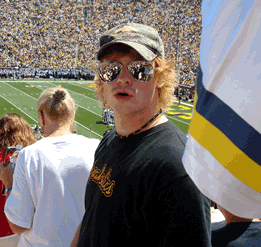 IIRC Shaggy and his buddies had their nicknames on the back of their shirts, and I spotted them heading down the aisle in Section 22. Shaggy agreed to the pic above, correctly called the margin of victory by flashing the rockin' deuce, and the rest, as they say, was history miserable. Shaggy – will you be back Saturday?
I don't think this lady will be back, she was in the 2nd overtime of life:
I offered a "well done" to an elderly woman & App State supporter as she walked to her car. She smiled and said, "You have a lovely stadium."

Yes, we have a lovely stadium. WE HAVE A LOVELY STADIUM!?
I would have preferred a swift smack in the giblets with her walking cane.
Follow MVictors on Twitter