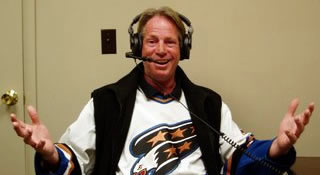 Last week I had the pleasure of sitting down with former WTKA morning show host and former NHL and Michigan hockey player Dave Shand. The 90 minute interview was held at Mac's in downtown Saline a couple days after Michigan's stunning loss to Illinois. Shand is in the middle of a lawsuit with Michigan athletic director Bill Martin, who Shand claims directly caused his dismissal from the Ann Arbor radio station. The interview is broken into a few parts, first we'll start with the basics: What he's up to, the status of the lawsuit, and his thoughts on his old show and the new hosts at WTKA:
MVictors: It's been a year and half since you were fired from WTKA, what have you been up to?
Shand: Right after I was fired it took me a while to absorb it because we had just received the highest ratings that any show had ever gotten in the history of the radio station. I had just received a 50% raise in pay. Literally within a month, and we were right in the middle of the spring rating period, I was fired in April 23rd. No one ever gets fired in the middle of the rating period because you want to wait until the Arbitron ratings come out to make personnel decisions. If you're in the toilet after the rating book comes out, you get shit-canned. If your ratings rise significantly, you get a raise.
[Lawyer] Chris Easthope called me after I was fired and said, "I know you're unemployed, I'm overloaded and need help with cases." So I started up with him. He's made the decision to run for district judge and now we've formed a partnership called Easthope and Shand, we do everything from assault/battery, drunk driving, minor in possession – you name it we do it on the criminal defense side. We also do some landlord/tenant work around Southeast Michigan. And I still handle contract and negotiations with police and firefighters. We're surviving. We're not making $500,000/year but there's a roof over our heads and food on the table.
MVictors: Are you still working for the University?
Shand: No, I don't have any connection with the University. I haven't since 2006. They revamped the department of Kinesiology. But I left on a high note, I'm still the highest rated lecturer they've ever had in the Department of Kinesiology.
MVictors: Any thoughts of getting back to work with the University?
Shand: No, not really. [laughing] I think suing the athletic director is probably not the best way to build bridges to the University community.
MVictors: What's the status of your lawsuit with Bill Martin?
Shand: We filed a suit on July 24th of 2007. We did not sue Bill Martin in his official capacity as athletic director; we sued Bill Martin individually for violating my First Amendment rights to free speech. They filed multiple objections, motions to dismiss on (five or six) different grounds. Ever single motion he filed he lost.
Last year (December 2007) we filed a discovery request, documents, letters, emails – to this point in time we have not received one piece of paper from the University of Michigan. We have been stonewalled on everything single thing we have done. It has been an unbelievable act of arrogance. The stunning thing for us is that it appears that the University of Michigan is paying for his defense – we're not suing him as an Athletic Director. I bet the legal bill is well into the six figures right now, and we're not suing him as athletic director. To me, someone should ask, 'Why isn't he paying his own legal bills?.
MVictors: What is Martin's position in the case?
Shand: I think their position is that he never directly asked WTKA to fire me. But he made it very clear that the relationship was going to be severely damaged.
MVictors: What do you think of the current WTKA morning show?
Shand: I think they're knowledgeable, I think they're prepared…I just don't think it's entertaining. It's a booster-driven station now, you can't say anything bad about Michigan, it's rah-rah-rah. There's no objective analysis, there's no critique. But I understand that completely, I mean look what happened to the last guy! [laughing]. And look at Dennis Fithian before him. If you want to keep your job you better keep your mouth shut and keep your nose clean. It's just not entertaining.
The whole with my show and Wickett and I together, and Josh and I. Everything seemed like a cluster-you-know-what. But there was a method to the madness. There was a concerted effort for me to drive the train off the tracks, and a concerted effort for Wick and Josh to keep it on the tracks. That tension – that was entertaining. You never knew what was going to come out of my mouth, never did they. People weren't listening to hear a recap of Michigan football, they were listening because they wanted to hear what he'd say next. The four hours went by like it was forty minutes. Some people liked us some people hated us. It was a great dynamic and it was so fun to do. It was entertaining radio."
MVictors: Each show you had some excuse for being late, was that shtick?
Shand: I was there every single show on time. We started coming up with reasons to be late, I would pretend to be late and I would add some excuse like, 'There was a gang fight last night, the Crypts and the Bloods in downtown Saline' Or the sheep are coming down from the hills. I would never tell Wick or Josh what my story was. Ryan Maguire, the program director at the time told us to keep it up. People would tune in at 6:15 to see if was there. It was so successful, that's how we came up with 'Storytime with Shand' and 'Shouting with Shand'. And they actually charged extra to sponsor those segments. In the last ratings when I was there we were #2 in our target demographic, which is males 25-54. We had a 300% increase from the previous ratings period.
MVictors: Speaking of Storytime, you have some incredible stories. I recall you talking about dating sisters with Pete Rose and great stuff like that. Have you considering putting any of this in a book?
Shand: [Laughing] Ohhh…the Brown sisters. They were awesome. Actually, Lasting Lessons author John Bacon talked to me about this. I told him, the only thing that would make the book interesting is if I named names. With all my time in the NHL and all the things I know, naming names would get me killed. The best stories are going to get guys divorced. [laughing] So, I can't do that. I've been divorced enough, I don't want to get anyone else divorced.
MVictors: Any thoughts of getting back into radio, have you had any offers?
Shand: I would love to get back into radio. I've talked to [WDFN program director] Rona Danziger from Clear Channel and [afternoon host] Mike Stone. My only problem is, I'm not a Detroit guy. I never played for the Red Wings, I'm not a sportswriter for a newspaper, I'm an Ann Arbor guy. I went to undergrad here, I went to law school here. I played here, I coached here, I taught sports law at the University. Everything I am is defined by my relationship with Michigan. Which is a reason why the morning show was so successful, but it's a limitation because I don't have any connections elsewhere. I'm a Michigan man.
They said they'd look for opportunities to bring me on, or in guest spots. But I'm not willing to do a 6-10am slot in Detroit where I have to get up at three in the morning and be on the road by five. My daughter's playing travel volleyball and my son's playing travel hockey and baseball. And I've got a law practice now. Having a show in Ann Arbor would be perfect, but I don't think it's ever going to happen unfortunately. But never say never, I love doing the radio stuff and I thought it went really, really well and obviously a lot of other people think so too.
MVictors: You started out on WTKA's Sunday show, Off the Field, with John Bacon. Have you guys spoke since you were let go from WTKA?
Shand: When we did the show together I used to tell stories, and some of the stories were Bacon's stories. I would tell the story and Bacon would always say, "Hey, attribution, attribution. As John Bacon told me…". So I was listening one Sunday to his show with Jamie [Morris] and he told two stories in a row that weren't his stories. They were my stories. And I called him up and said, 'You know what? It's a two way street. You always demanded attribution from me. If you're going to tell my stories you give attribution." He apologized, and as far as I know he hasn't told any more of my stories. But we also have not talked since that point in time. It was an uncomfortable conversation. I knew he was between a rock and a hard place because he can't say 'Dave Shand' on the air at WTKA.
————————————–
Here are links to all four parts of the interview:
Part I: What he's up to, the lawsuit with Bill Martin, more.
Part II: Jim Carty and the News Series
Part III: Coach Red and the Fab Five
Part IV: The Rodriguez hire