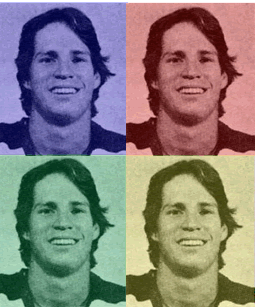 Continuing the interview with former WTKA morning show host Dave Shand. In Part I, we discussed what Shand is up to these days, his lawsuit with Bill Martin and his thoughts on the current morning crew at WTKA. In Part II, we looked at Jim Carty and the Ann Arbors News series on academics and athletics.
In this installment, we talk about Red Berenson, the future of the hockey program, and get some of Shand's thoughts on Steve Fisher and how the University handled the Ed Martin mess.
Achtung! Shand uses some spicy language in this one. FWIW.
——————————
MVictors: Let's talk some hockey. Coach Berenson, do you still talk to Red? How's he's doing?
Shand: He's doing really well. He's almost seventy. He doesn't look even close to that. I remember his dad, a good guy, 95 or 96 before he passed away. So genetically Red's got some things going for him but I remember him telling me, "Sixty years old, that's it. I'm retiring at 60." I remember Red talking to me about taking over the program, becoming head coach and I remember telling him, "You're not retiring. You love this too much."
And it's getting easier because Mel Pearson and Billy Powers are doing such a great job at putting pieces in place for Red to work with. They go out there and work their asses off and they bring in a ton of talent everything single year. Last year was the best example– look at the number of freshman they brought in and look at the year they had. Red does not go out beating the trails and finding the kids in Buttfuck, Utah trying to find a power forward. Those guys do it, and they keep bringing in talent every single year. And the genius of Red is that he knows how to mold that talent, how to put it together and how to make a team.
MVictors: He's not going to coach here forever.
Shand: I don't know about that. [laughing]. He might be the first 110 year old coach at Michigan. He'd be our JoePa. [laughs]
MVictors: Where's the next coach going to come from? Are they going to do what Michigan State did and hire a seasoned, high profile coach?
Shand: I would really be shocked if Mel Pearson didn't get it. Just because he was here before I was here, and he was my mentor. I knew nothing about recruiting college hockey and Mel taught me everything about it. I think he's the best recruiter in college hockey. And I think he's proven it year after year. Why he doesn't have a head coaching job somewhere else….it just baffles me. I know he's had a couple of offers but they weren't good situations, it was coming in as a disaster rescue unit where your chances of succeeding are really slim. He's the best guy in a living room I've ever seen; he's the best evaluator of hockey talent.
It's not just every high profile recruit. When he recruited Mike Knuble he was playing for the Kalamazoo Junior Wings, nobody else in the country wanted Mike Knuble. Nobody. He wasn't being recruited by Western [Michigan], which happens to be in Kalamazoo. Mel Pearson loved that kid and we went that kid and offered him a scholarship and he came to Michigan sight unseen. He'd never been on campus, he didn't have another scholarship offer. He's a 30 goal scorer in the NHL now. He was a big, fat slow kid from Kalamazoo. Mel saw something in him that nobody else saw, and he's does that again and again. So I think he absolutely has to get the first shot at the job. He deserves to have the shot, he done so much for this program. I think he'll be a terrific coach.
MVictors: You hear a lot about how the football program is a close family, you heard about Bo's first team coming back and players coming back for big games. Is the hockey program a close family?
Shand: Oh yeah. It really is a tight family. It's hard to explain to somebody on the outside. I am now a lawyer for a number of Michigan ex-hockey players when legal things come up. I'd say at least a dozen kids that I recruited, or coached, or got to know after I left the program- I'm their lawyer. They know they can trust me and I'll do my best for them and I'll never give them bad advice. So they call me.
Red's done a phenomenal job creating the feeling that everything that's gone before is connected with everything that's going to happen. And it is not an easy thing to do. I think Tommy Amaker tried to replicate it, and I think John Beilein's trying to do the same.
You don't understand how crucial it is to recruiting because everybody knows everybody. Once you are part of the Michigan family you're part of the Michigan family forever. You know what? That's a huge recruiting pitch on the road. It's not like we cycle you through and when you're done, don't call us again. It's a continuation. It's a really good feeling that the program has.
MVictors: You mention Beilein, I saw him at the Illinois game along with Fab Fiver Jimmy King. You were a hockey coach when the Fab 5 was in town.
Shand: Yes, Brian Dutcher, Jim Smith were assistant coaches. Steve Fisher…I loved Steve. So I guess I'm prejudiced.
MVictors: Do you think Fisher was wronged?
Shand: Oh yeah. I think he was totally screwed. Those guys were good guys, those kids were good kids. I really liked the whole group, not just the Fab Five. I thought Fish did a terrific job. That decision, and I think it was Tom Goss's decision, but that decision was an absolute disaster and it's been a disaster from that point on in the program.
MVictors: Most people think that Fisher was aware of what was going with Ed Martin and should have done something to stop it
Shand: They had pictures of Ed Martin up in the locker room [that read] 'You Can Not Associate With This Guy'. It's in the locker room. Posters. And by the way, it wasn't those guys that got them all fucked up, it was Louis Bullock. He got them to the statutory limit, it wasn't the Fab Five. He's from Maryland. How the hell does he know Ed Martin? He actively went out and connected with this guy, and got illegal stuff from this guy. He's from Maryland, what's he doing with Ed Martin?
MVictors: Do you think Chris Webber's clean in this?
Shand: I don't think Chris Webber's hands have ever been clean. I think everything that was going on at that point in time was going on at every basketball program in the country. If you want to indict every basketball program ..that's the way business was being done. And everybody knew that was the way business was being done.
MVictors: Should Beilein welcome back the Fab Five?
Shand: Oh absolutely. I think the thing was handled so poorly, to get on bended knee and say 'please, please, please.' If you want to pick on Michigan, that's fine. You know what? UNLV, with Jerry Tarkanian, went through 11 years of appeals before Tarkanian vs. The NCAA ever made it to the Supreme Court. Jerry Tarkanian was employed for 11 years and we have pictures with him with hookers, in a spa with his players and an agent, and it goes on eleven years. And Michigan just folds the tent.
I just thought it was really poorly handled. I thought it was poorly handled from beginning to end. Why don't you fight? You want to indict us…Why don't you go after Jim O'Brien at Ohio State and direct payments of money to players. Did Jim O'Brien get sanctioned, did they go on probation? Every elite program was doing the same thing.

MVictors: Sticking on the topic of coaches, we still don't know a whole lot about Rodriguez but we know he really doesn't like to lose. I think he cited it as a reason he didn't want to film Michigan Replay after games (in case they lost).
Shand: You haven't seen fuckin' Red after a loss. There's actually a story in John Bacon's book Blue Ice. We're up in Sault Ste Marie, and we're playing Lake [Superior] State. I think the previous 27 times we'd played them we beat them twice. This was 90-91. Lake State were defending national champions. They were big, physical and they'd bang the shit out of you, especially in their own building. I think we lost 10-0.
It's just Red and I up there–Mel's on a recruiting trip. I thought Red was going to fucking explode. He comes into the locker room, throws shit around and he goes, "That was unbelievable. You guys are wimps and fucking pussies. You've got no fuckin' guts and no fucking balls." He stomps out of the locker room. I'm the assistant coach so I follow him out.
So the team's getting on the bus to get back to the hotel, it's about three miles from the rink and it's 25 below zero. As the team's getting on the bus Red goes, "I ain't fuckin' riding with those losers." So we walk back from the hotel in a snow storm, at 25 below zero, I've got Italian loafers that I bought when I was in Europe. They were $250 shoes, they were ruined. I get back to the hotel and just throw the shoes in the garbage because they're done. I had to go back to my room and run a tub of hot water because I thought I was going to get frostbite.
So Red calls and tells me to come down, he's got the tape from the game. We looked at the tape 'til 6 o'clock, 7 o'clock in the morning. For six hours, broke down everything. We have the morning skate, Red doesn't say a fucking word. We have the pregame meal, normally we have a meeting right after. Red comes in, he goes, "If you are men, and I mean men…with balls and a fucking cock and some sense of yourself…then you will fucking play tonight." He turned around and walked out of the room. We won 4-3 in overtime. It was unbelievable. The bus ride back from the Sault was like 20 minutes.** Talk about people who hate to lose.
** Per a reference to the story in Michigan Today, Bacon's version of this incident is mildly different but you get the idea, plus heck, Shand was there.
———————————
Here are links to all four parts of the interview:
Part I: What he's up to, the lawsuit with Bill Martin, more.
Part II: Jim Carty and the News Series
Part III: Coach Red and the Fab Five
Part IV: The Rodriguez hire