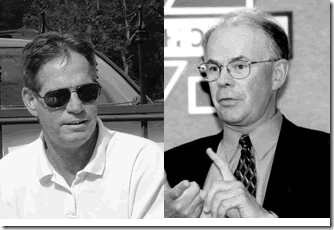 After numerous motions and delays, a judge has thrown out the case of former Michigan hockey player and coach, NHL'er and WTKA 1050AM morning host Dave Shand against U-M athletic director Bill Martin.
Shand claimed he was wrongfully terminated in April 2007 from WTKA at the order of Martin, who, they argued, pressured station brass to remove the outspoken host.   The gist of the complaint:
20. On April 19, 2007, Martin communicated both indirectly and directly with [WTKA station brass] Bolak and Cowen, and informed them that he would not allow WTKA to participate in a planned coverage of a UM charity golf event if they permitted plaintiff to broadcast it.
21. Martin further indicated that he wanted the station to fire the plaintiff, and stated that if they did not, he would no longer allow WTKA to carry University of Michigan football games.
It appears as though Shand's team was never able to present smoking gun evidence of Martin's direct involvement in the firing. 
Shand's attorney Nick Roumel explained via email, "Some of our evidence was hearsay because we never actually had anyone who heard Martin himself make the statements we alleged he said.  We argued that the hearsay was nonetheless admissible under certain hearsay exceptions."
Roumel added, "I'm proud of Dave for standing up for his rights."
We know Martin is moving on next year; here's hoping Shand decides to get back on the radio or in some other form of media down the road.   Dave's currently an attorney at Lahn, Hall and Shand in Saline.
Related:
* Concept of 'Michigan Man' remains with alum – 2006 Michigan Daily piece on Shand
* Exclusive: Dave Shand Responds to Questions