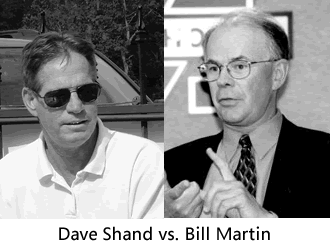 MVictors obtained a copy of the complaint filed yesterday in federal court against Michigan athletic director Bill Martin.
Here's a full version of the complaint in .pdf format
we requested and received from Shand's legal team.
MVictors.com exclusive legal correspondent from the firm of Charleys, Ricks and Frasers is reviewing the complaint right now and we'll be posting a few comments soon.
Here's an excerpt from the complaint, where things get interesting:
19. This relationship [between WTKA and Michigan athletics] became threatened when defendant Martin became increasingly irritated with plaintiff's occasional outspoken criticisms of the UM athletic program, and possibly other on-air comments.
20. On April 19, 2007, Martin communicated both indirectly and directly with Bolak and Cowen, and informed them that he would not allow WTKA to participate in a planned coverage of a UM charity golf event if they permitted plaintiff to broadcast it.
21. Martin further indicated that he wanted the station to fire the plaintiff, and stated that if they did not, he would no longer allow WTKA to carry University of Michigan football games.
22. Martin had no supervisory authority whatsoever over WTKA, Bolak, Cowen or plaintiff, and he and the UM Athletic Department were completely independent of the radio station except for the license to broadcast football games and related programming.
23. Martin's interference in WTKA's personnel decisions was spiteful, malicious, and wholly without justification.
24. Nonetheless, on April 20, 2007, kowtowing to Martin's edict, Cowen informed plaintiff that he was fired.
25. Cowen and Bolak later told plaintiff that Martin had effectively blackmailed the station, by threatening its football broadcasting rights unless it fired plaintiff.
For more background on the Shand dismissal from WTKA this spring, click here.
photo credit above: daveshandfans.com