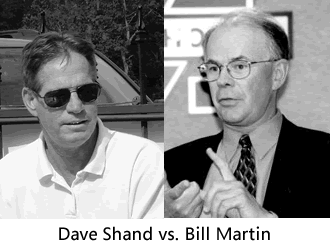 Sorry for the delay on getting out an update on Dave Shand's suit against Michigan athletic director Bill Martin. The former Michigan hockey player, assistant coach and NHL'er claims that Bill Martin directed local sports radio station WTKA to fire Shand from his post as morning show host.
Shand's attorney, Nick Roumel of Nick Roumel & Associates, advised that Martin was deposed on January 21st and "denied everything".  The athletic director's attorneys have filed their third motion to dismiss the case.
Looking for Deep Throat
One other interesting side note. It turns out Roumel is on the look out for someone who might have information related to the case.
Apparently an anonymous caller contacted Shand on September 14, 2007.  They spoke for quite a while and this person claimed to have some very specific information about this case (I don't have any detail on what was said).    This person was going to deliver some documentation supporting whatever information he had, but this never happened.
Roumel is looking for this person to come forward and contact him at nick [at] nickroumel [dot] com or call 734.645.7507.
Related:
* Jim Carty's take on the Shand Case