Ahh yes, the recent flurry of jug discussion here has prompted yet another reader to send along his Little Brown Jug: Home Edition, and this one's a beauty as well. 
Thanks to reader Dennis who passed along these photos.  This was a gift he gave to his dad. 
Not only is it a marvelous replica, it's signed by a bevy of Michigan coaches (Bump, Mo, Lloyd, Bo, Rich Rod) each of whom have walked off the gridiron with the coveted crock during their tenure: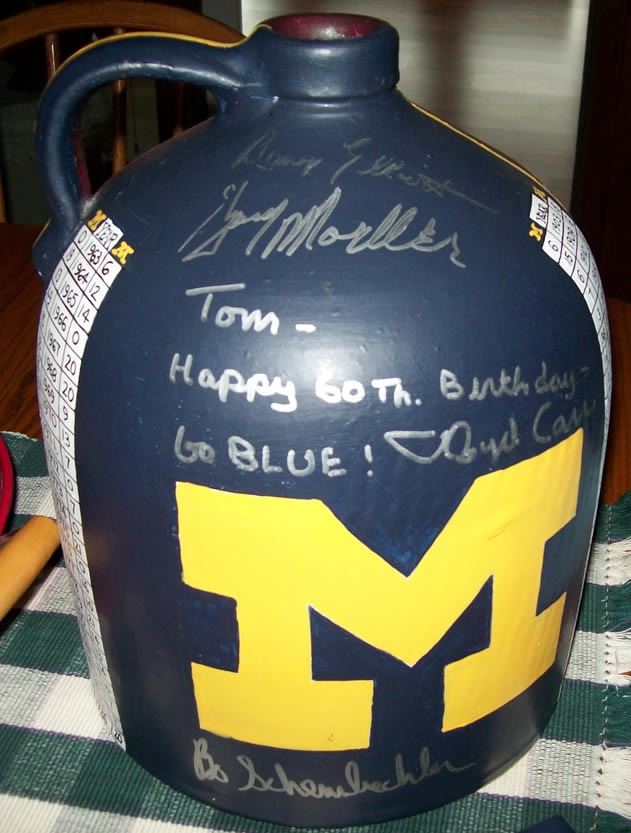 Dennis is looking to have Coach Hoke sign it as well.  My suggestion: wait until he earns it!
So go ahead and update the list of things that will survive the Apocalypse:  cockroaches, Lions fans, airplane black boxes, Little Brown Jug replicas.
Elsewhere:
* It's not as slick as any of the three replicas I've featured on these pages, but you can get a 1950s-version painted Little Brown Jug on eBay right now. 
* Better yet, how about a lineup card from the 1909 Minnesota-Michigan game: the first battle for the jug?  I'm guessing the seller, who's asking $300, knew he had something there.