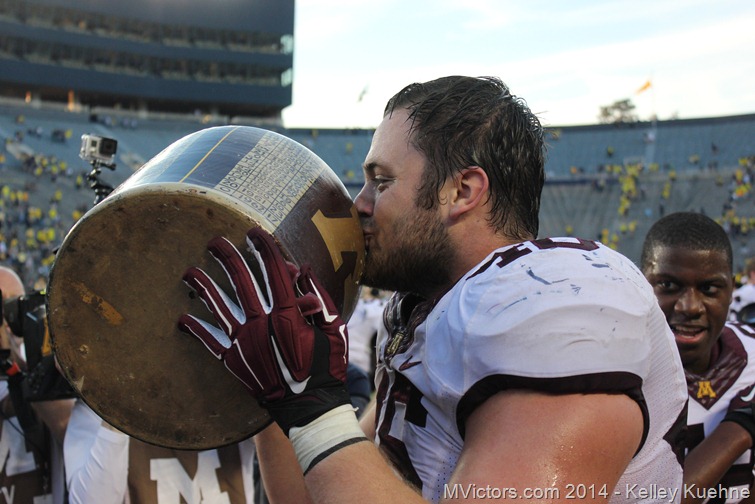 I don't have to explain how I feel about the history of this rivalry and also needless to say, it is very rough for me to watch that jug head out of town. Looking through the photos, it particularly stung seeing shots with that new section of the jug. I stood inches away when Jil Gordon painted on the score last year. You might call this the dong punch de resistance: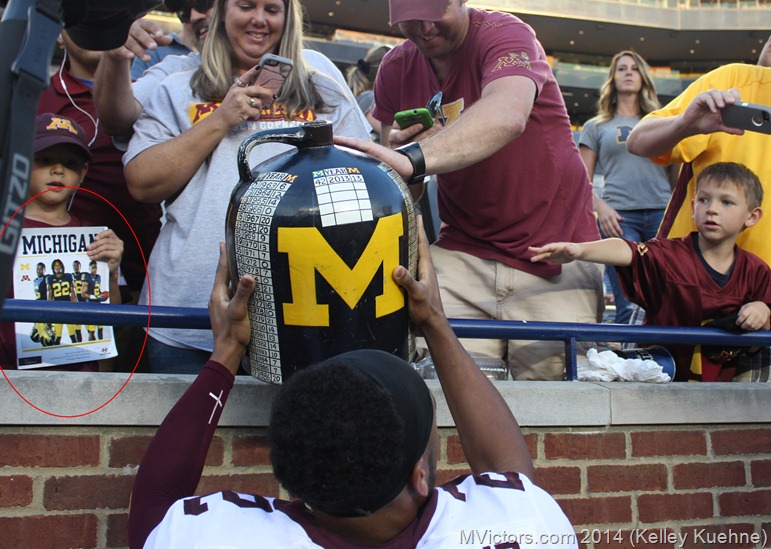 Check out the kid holding a program. Inside there is a story this week that I wrote, particularly about the different paint jobs the jug has had over the years leading off with a mention of Jil's work (including the photo below) on the new section last year.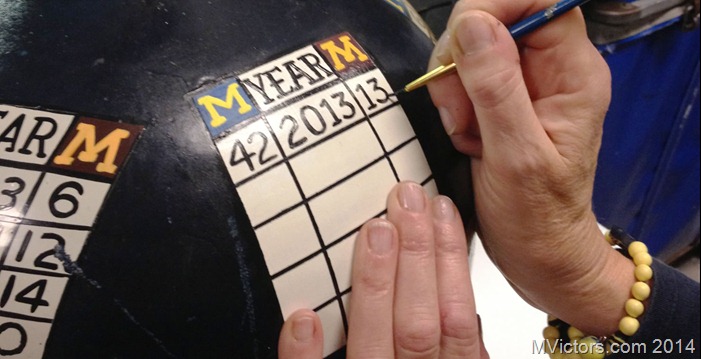 Now that thing is hundreds of miles away and they are doing lord-knows-what to it. Punch.
Read on..(1964 team, Arena, Pomp, Mood, links and more…)
Arena:
Highlights: +1 to #1000SSS for showing highlights of other games on the big screen during the day. Do more of that.
Grapes: Many noticed that PA announcer Carl Grapentine was having a rough day Saturday. He pushed through, but I heard (unconfirmed) that in the event Carl needed to temporarily step away Bruce Madej would be someone they'd consider to have fill in.
Pomp:
The 50th. It was outstanding to see the 1964 team out there for their 50th anniversary. I'm going to leave my thoughts on the 1964 team for a post in the next couple days because it doesn't belong here in the immediate aftermath of this crappy day. In short, meeting Bump and many of these guys was an absolute thrill – a thrill that will last much longer than the sting of what happened out there during the game. A favorite shot of mine: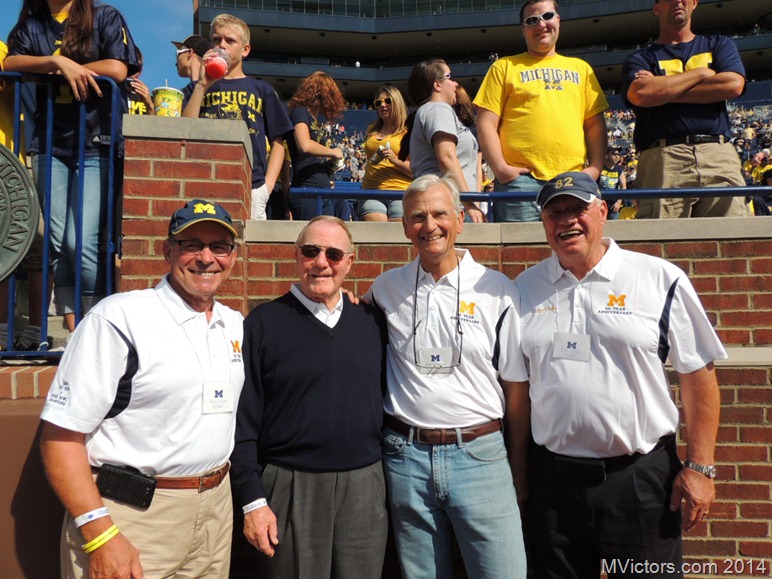 Barry Dehlin, Coach Bump Elliott, Bob Timberlake, Jim Conley (I interviewed each of these guys save for BT for my HTTV/GoBlueWolverine and U-M program pieces)
And thank you Michigan fans – they got a great ovation from the crowd. Well done.
#ChadTough: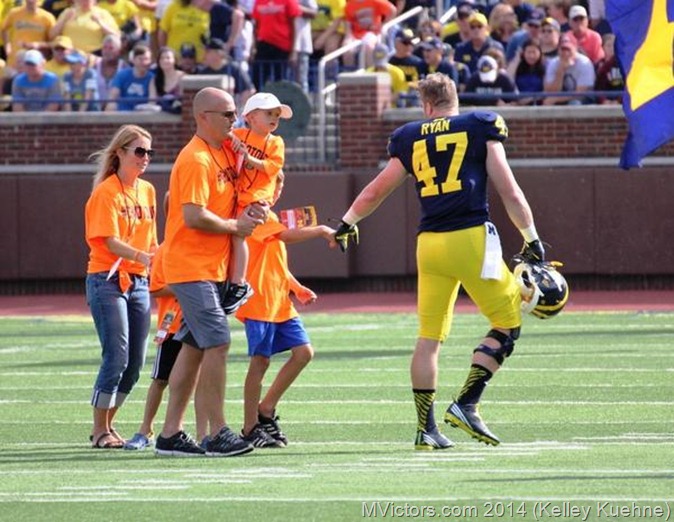 Media:
Butchered: I heard that ABC/ESPN absolutely butchered the history of the jug. Little Brown UGH. I will make it a point to seek these guys out before the game next year and have a chat because I can't take it anymore.
Not funny: The dean of Lansing writers Jack Ebling tweeted this today:

Brady Hoke is fair game of course, but it's regrettable that very seasoned writer would work a kid with a head injury into his "joke".
History:
September: Lots o' tweets about never having 3 losses in September. Sure, but we didn't even start the season until late Sept or early October for the majority of Michigan history. We didn't start even playing three games in September until the 1970s so easy on that one. But I'm not saying things are great, see next point.
Mood Update: The Mood Index, the metric trying to gauge how great it is to be a Michigan Wolverine. This is an all-time low, easily:
Uniform Update: Nothing out there of note with my eyes. Uniform Timeline if you need it.
Out there:
mgoblog: Ace:
Regardless of how you felt about the on-field performance, what Brady Hoke did in putting an almost certainly concussed Shane Morris back on the field was reprehensible and, if you believe the first job of a head coach is to protect his own players, worthy of a firing. The fact that Hoke let Morris stay on the field as long as he did in the first place—when Morris, at one point, waved at the sideline while needing a lineman's support to stand—was awful enough; to ask Morris to re-enter that game was beyond the pale.

A national television audience just saw every reason why they shouldn't send their football players to Michigan.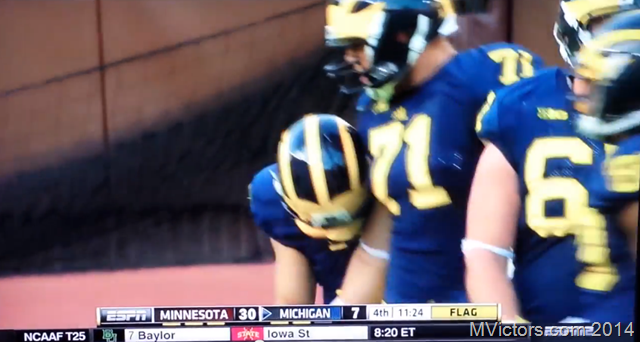 Touch the Banner:
End the Shane Morris experiment now. We have seen Shane Morris play a fair amount of football now that we're five games into his sophomore season. In 2013 he played a respectable number of snaps against Central Michigan, Michigan State, and Kansas State; this year he has seen an appreciable amount of time against Appalachian State, Utah, and Minnesota. What have we learned? He's not good at football right now. He can't progress through his reads quickly, he's careless with the football, and he's not accurate, especially when throwing to his right
The new reality is that Michigan is in a dark place, darker than I have ever seen it. And nearly all of it is self-inflicted. And I'm not sure there's an obvious way out of it. Some seem confident that the right decisions are being made. But, being confident in having made the right decision is not the same as making the right decision.
Related on MVictors:
Follow MVictors on Twitter