Whew. Yeesh. Yikes. Wha happen'd? If it feels weird do it: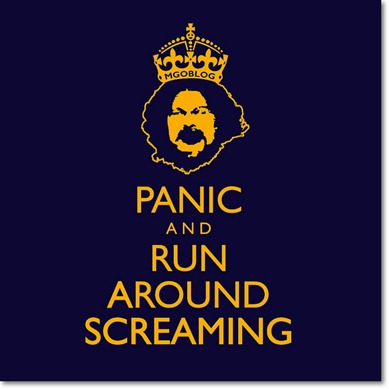 Do you have that in mauve? Once you've calmed down consider these sights and sounds:
> Cue ball Corner Pocket > I give the students mucho slack but come on young men and ladies, I think we can do better. Here's a look as the team pours out of the tunnel and under the coveted GO BLUE banner, a few minutes before kickoff: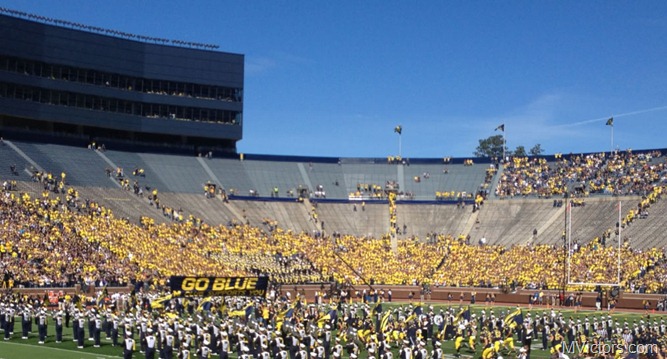 First snap (14:55 in first):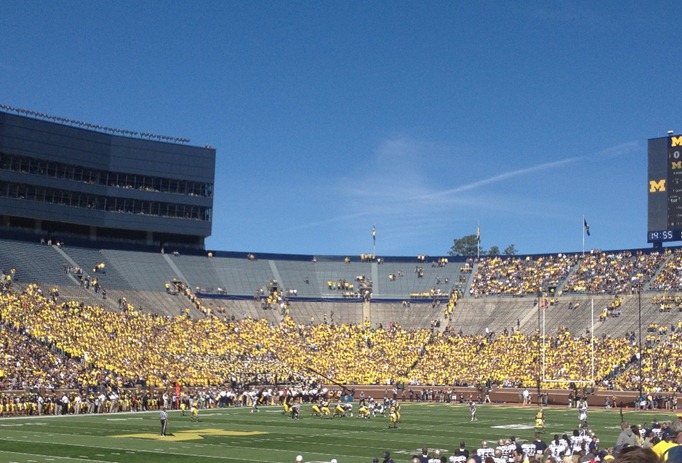 End of the first quarter FWIW: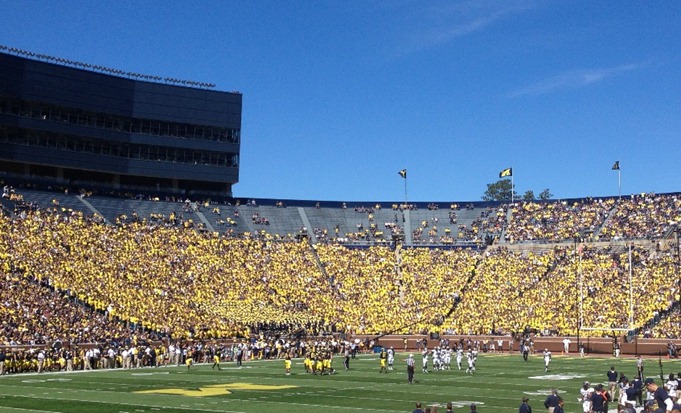 > Sky W.O.W – or was that a M.O.M. experience? A few shots of the skywriting above the stadium for the archives: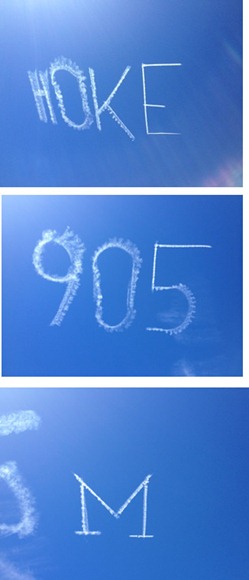 Props to the pilot for completing the '905' just as they flashed the 905 all-time wins graphic on the scoreboard. And yes, I'm aware this or another guy got loose with a 'Go Blue' in East Lansing. How come the guy in EL was dropping some tight smoke? Did the wind die down later in the afternoon? Did that guy fly in Nam?
> Does Whatever a maize clad Spider-Man does > He wore this so his moms wouldn't see him on TV on Yom Kippur: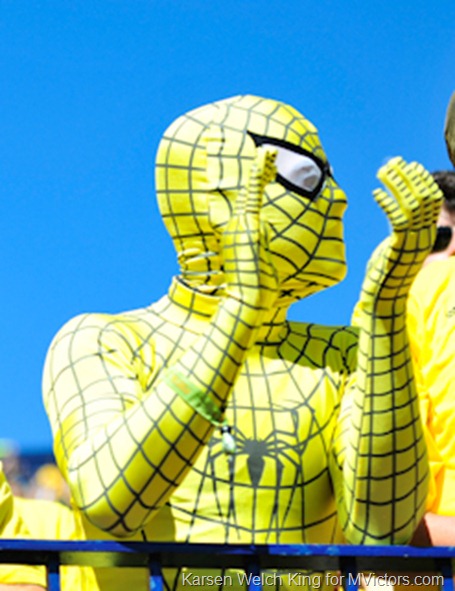 Call him Maestro about town > Coach Beilein directing the Michigan Marching band during the half: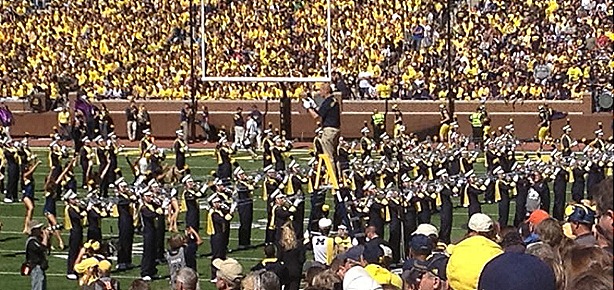 Deliver $200M, you get a coin toss and a giant banner. Deliver a Final Four, you get the band.
Zip Nation: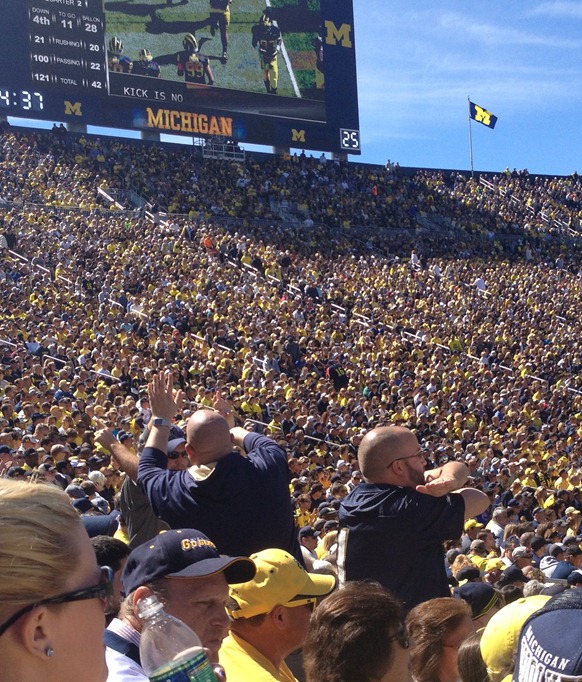 Hall of Honor > If you missed it top 25 all-timer Mark Messner, runner Katie McGregor and hoops legend Gary Grant joined the U-M Hall of Honor. Both well deserved and Messner was on the field during the acknowledgement. My interview with Messner here is worth a re-read. Also recognized during the game were Steve Hutchinson and Jeff Backus.
Tressel inside there? Wait, what's with the grin, Roo? WHAT DO YOU KNOW??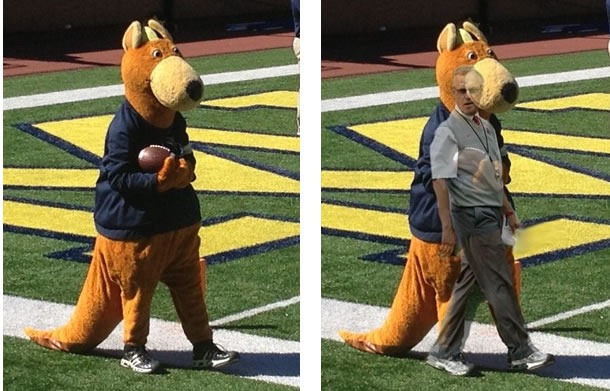 Vintage? /sad face> I spotted a younger gal rocking some Michigan Rose Bowl gear. First thought? Wow, that's a young gal wearing vintage Rose Bowl gear…cool. Second thought? Holy crap—all Michigan Rose Bowl gear is now vintage. Yeeeeesssh.
East Side! > So, in case you missed it, the band exclusively faced the east side at halftime for the first time…ever? For real: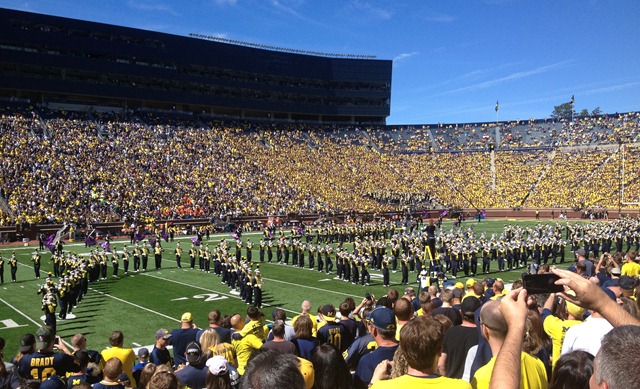 I'm not a superstitious man but let me just say that now that this itch is scratched…memo to the band..return to the west side forever, mmm kay?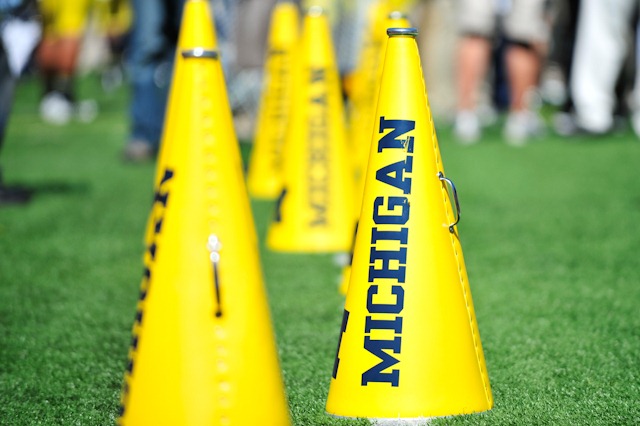 More to come including game notes. Check out these game photos.
Follow MVictors on Twitter
Related: