Recently stock market talking heads like CNBC's Jim Cramer have expended a lot of calories talking about finding the "bottom", meaning the point where the collective nastiness out there (Ebola, ISIS, etc.) has punished stock prices and it's safe for investors to jump back in. Said another way, it's the point where things stop getting worse and start getting better. He even made a list:
If you felt great when we (yes I said we) scored a touchdown against Michigan State, congrats, you've reached a personal bottom. For this football program I'd like to think that Saturday was the bottom but I don't think we're there yet. There's a list but I can't bear to write it down. A few suggestions for you: 1. Season over 2. New coach named 3. Signing day 4. Rival fans stop feeling sorry for you. 5…
Arena: A couple notes for you:
* Spear-gate – Who gives a crap?
* #ChadTough – This was nice – well done MMB and MSUMB: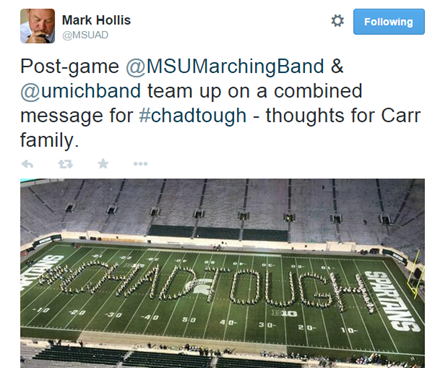 Mood Update: The Mood Index, the metric trying to gauge how great it is to be a Michigan Wolverine. It's not: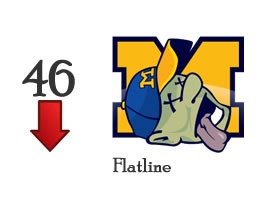 Uniform Update: Nothing timeline worthy, but you have a couple guys (at least early on) wearing the white Team 135 undershirts with the State of Michigan logo (with block M on Ann Arbor) on the sleeve. And you had the maize and blue gloves with the white uniforms – they stood out: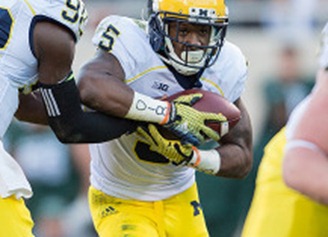 Historical Games Notes: Primarily via #1000SSS:
• Senior kicker Matt Wile connected on a season-long 48-yard field goal in the second quarter. Wile is tied for third on U-M's single-season list of 40+-yard field goals made with five, tying Remy Hamilton (1996), J.D. Carlson (1989) and Brendan Gibbons (2013).
• Matt Wile is tied for sixth on Michigan's all-time career list of 40+-yard field goals made with eight, tying Bob Bergeron (1981-84) and Hayden Epstein (1998-2001).
Follow MVictors on Twitter