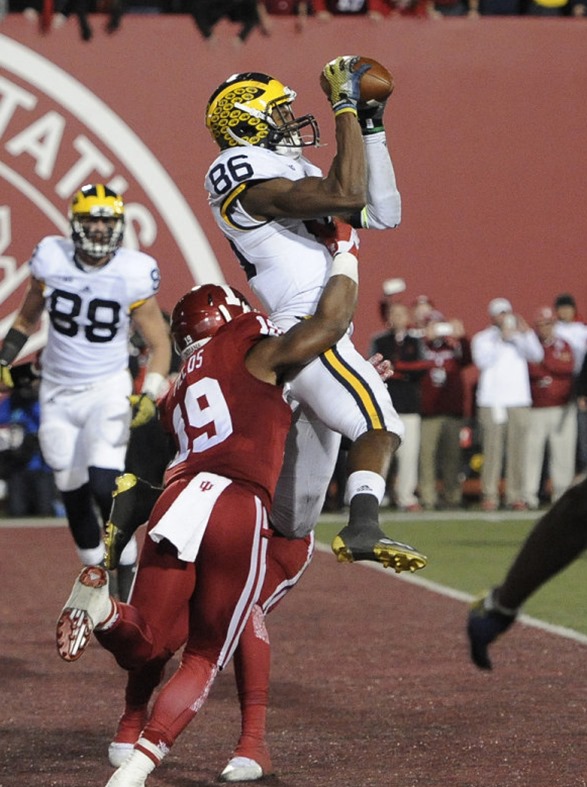 via mgoblue.com
Heading into the season we figured Harbaugh was the answer but that he needed time.  We hoped that time would be short, even just maybe something would happen this year.  We hoped that under his tutelage, a quarterback would emerge to lead this team.  And  we hoped somehow we'd muster a running game and the defense would come together.   So here we are in mid-November with much on the line and with the events of the past few weeks—very hopeful.
Rudock looked like a different cat out there, with a new level of confidence and toughness.  At times he looked a bit like a young coach Harbaugh himself with the fierce runs on third down and balls to fire the pigskin over the middle.  And as Sap said, the passing game is starting to click.
The concerns for these 2 weeks are obvious.  A winless in B1G team in IU won the line of scrimmage and the "yeah but Glasgow" excuse turned into this.   We still couldn't really run the ball and in space the first "man", meaning mainly an Indiana 19 year old kid, took us down.  The penalties were horrible.  The linebackers were ineffective at best.  We missed a bunch of tackles.
But you are hopeful, aren't you?  Despite all that stuff Michigan is a really tough team to beat and they will compete.
A few quick Sights and Sounds:
Uniform Timeline – Is the Sharpie-on-helmets timeline worthy?  Yes sir, especially if just about everyone on the team participates.  Updated with the custom #CHADTOUGH tribute to Chad Carr.
Mood – Putting aside the sadness globally and locally, the Mood stays pegged on 86.
OT success – With the win, I believe that puts Michigan at 10-32 all time in overtime games.
Nailbiters in general – The last few weeks have been crazy for sure, but there's still work to do to top this stretch in 2005:

9/24/2005 Wisconsin – Loss, Wisconsin TD with :24 left
10/1/2005 MSU – Win, Field Goal on last play of game in OT
10/8/2005 Minnesota – Loss, Field Goal with :01 left
10/15/2005 –  Penn State – Win, TD on last play of game
10/22/2005 –  Iowa Win, TD on last play of game in OT

Holding – Props to Blake O'Neill for getting a couple rough snaps down, including the crucial extra point at the end of the game.
History notes from #1000SSS:

Michigan has now won 20 consecutive games in the series against IU and improves to 55-9 all-time vs. the Hoosiers. U-M has won 17 of 18 meetings at Memorial Stadium and has been ranked in all 18 contests.
Butt now ranks No. 6 on U-M's all-time tight end receptions list and No. 9 on the all-time list for yardage by a Wolverine tight end. He is 10th in single-season receptions by a tight end. Butt now has six receiving touchdowns, good enough for a ninth place tie for tight ends.
Quarterback Jake Rudock set a single-game record at U-M with six touchdown passes. No QB had more than four previously.
Elsewhere:
Michigan survived the chaos and remains alive in the Big Ten race; they can control their own destiny if they beat Penn State and Ohio State takes cares of Michigan State next weekend. After an up-and-down first half of the year, the offense is hitting its stride, albeit with help from the generous Rutgers and Indiana defenses they've faced the last two weeks.

Glasgow's injury looms large, however. Jim Harbaugh announced after the game that the pectoral injury suffered last week will keep Michigan's D-line linchpin out for the season. Michigan faces a pair of top-notch running backs the next to close the regular season in Saquon Barkley and Ezekiel Elliott, to say nothing of the other weapons on Ohio State's offense. The line, the unquestioned strength of the team until this week, now has to stiffen up if the Wolverines want a shot at that ever-elusive Big Ten title.
Indiana showed pass, then, given a chance to think about it, got Sudfeld scramble to the two and one last play.  Then Indiana called timeout to think about it and outsmarted themselves.  Discounting a punt and a field goal attempt, Indiana had called 20 consecutive run plays for 159 yards, two touchdowns, and a field goal.  It was working.  So yes, Durkin and the Michigan defense were probably expecting run, but they never sold out to buy into it.  Delano Hill stuck on his man, fought him tooth and nail, broke up the pass, and Michigan survived 48-41 and walked out of Bloomington with their 20 game winning streak against Indiana intact.

Follow MVictors on Twitter