Synopsis: They might be chicken but we're the jive turkeys.
No, the season is not lost but what happened last night was worse as anything that has happened in recent years – seriously – including last year's beat down in East Lansing. Oh yes, it got ugly (ironically, mostly Chicken Little sky is falling) on WTKA on Sunday morning. A reminder to callers, please recite your fandom credentials BEFORE your rant, please. Oh and the Twitterverse was less than kind to the current #1000SSS regime.
Hope is not a strategy but..that's my strategy. And bourbon.
Peacock Trolls: Nice to know NBC Sports is trolling this site…did you see that photo and brief mention of Yost's dog? I wonder where they got that?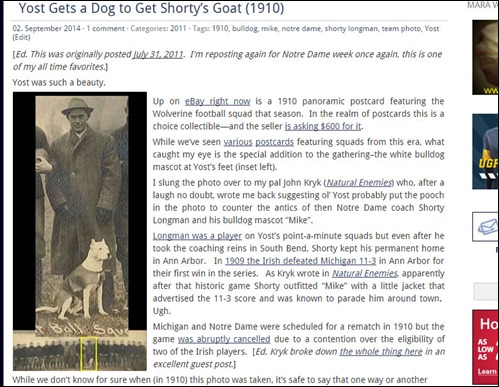 Hey peacocks – how about a mention or a hat tip?
Just Cover – Jokes aside about the offensive production, memo to Coach Nuss—maybe slap a cover on the play card? I don't know if there's anything on there we don't want the opponents to see but you can do a lot in HD these days: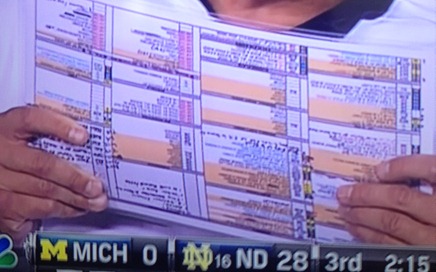 Mood Update: The Mood Index. Break-in reported at Ann Arbor Torch & Pitchfork around 2am EDT Sunday morning. Investigation pending.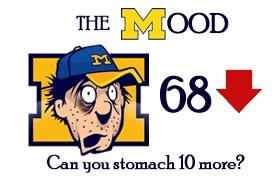 Uniform Update: White socks – the best thing out there Saturday? Also note the away (white) Team 135 under shirts:

And P.S., watching the game on TV in primetime – those helmets are definitely a darker shade of maize this season – no question.
Uniform Timeline will be updated soon.
Historical Games Notes: Primarily via #1000SSS:
On WTKA Sunday morning, ND/U-M Historian John Kryk called this the worst U-M loss in history (using any barometer). [Ed. Kryk was speaking in context of the Notre Dame rivalry]
Despite the loss, Michigan leads the all-time series vs. Notre Dame, 24-17-1.
Michigan's NCAA FBS record of most consecutive games without being shut out (376) ends with tonight's loss. The last time the Wolverines were shut out was on Oct. 20, 1984 (26-0, at Iowa).
Junior wide receiver Devin Funchess finished the game with a career-high nine receptions for a team-high 107 yards. It marked Funchess' fourth career 100-yard game.
Funchess has posted at least one catch in 16 straight games.
Friends:
Hoover Street Rag – End Game:
I read John U. Bacon's Wall Street Journal piece about Gardner last night while waiting for pizza and my thought was "Man, I hope Devin Gardner doesn't become John Navarre 2.0" But after last night's performance, it's going to be clear that Gardner will be a lightning rod for criticism of this team. He probably deserves some of the criticism, but not all of it. But he's the quarterback, he's wearing Tom Harmon's 98, he's going to get the scorching hot takes launched upon him.
And when Michigan was at their most vulnerable, Notre Dame pounced. Michigan was utterly and completely out-coached on all phases of the game tonight.
There aren't many words that can describe just how much this game sucked. It was bad everywhere. There will be second guessing about everything…coaching, players, scheme…everything. That's what a 31-0 loss will do for you.
Related on MVictors:
Follow MVictors on Twitter