A few misc. items from this weekend of note.
First off, props to Melanie Maxwell of AnnArbor.com for getting this shot of Peedi and Brandon Graham at graduation.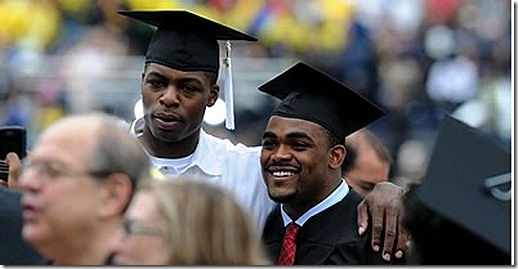 Credit:  Melanie Maxwell AnnArbor.com
Speaking of the graduation, student speaker Alex Marston did a fine job with his remarks and I was glad he put the football legacy of Gerald Ford in proper historical context:
And Gerald Ford, who, after being named the most valuable player on the 1934 Michigan football team, went on to become the leader of the free world.
What do I mean?  Well, Ford was indeed the MVP of the '34 squad and was also a member of the 1932 and 1933 national championship teams.  As the years go by, folks tend to upgrade Ford's role on those squads because..well, who's really checking?   There are a few of us out there that care, including Craig Barker over at HSR who pinged me while at the Frozen Four to share he saw a photo of Ford which included text talking about how he led Michigan to the '32 and '33 titles.  False.  I'm glad Marston didn't go there.
Ford's 1934 squad was brutal, I argue the worst team in Michigan's history although some would give that distinction to Rich Rod's first season.   Marston couldn't resist a little mention of the Horror and the Pain:
As a nation, we have found that changes can bring us together. But they can also tear us apart. We can see our ambivalence about change here on campus, as well. After the horror of a certain football game played here a few years ago, many were thrilled when Michigan hired a coach who would bring a new energy and style of football to our school. But after two seasons, change has been slow and full of growing pains. (Coleman laughing).
New Owner at Moe's
Many grads and parents loaded up on U-M gear before they split and certainly the iconic Moe's Sports Shop on North U. was packed.   Opened in 1915, the shop has been run by the VanDeWege family for nearly 40 years but that changed in March   The owners of Underground Printing, Ryan Gregg and Rishi Narayan, bought the shop to extend their empire. 
I hope they keep some of those old Polaroid's of Michigan athletes somewhere in the shop.  There's one I loved of a 70s-era dude donning a Fraser's Pub shirt.  Love it. 
You can find a nice piece on the transition along with photos on AnnArbor.com.
Smoke Free Fraser's
The hot topic from the weekend was the institution of the smoking ban inside restaurants and bars.  I can go either way on this, but in the end I guess for once I'd like to walk out of Fraser's without smelling like crap.   The interior of the Pub has got to be stained with thick brown sludge after decades of people crushing cigarettes inside.  Owner Bill Fraser commented on his plans to clean the joint a couple weeks back:
"My place will get busier when this nonsmoking comes in, I guarantee it," said Bill Fraser, the owner of Fraser's Pub on Packard. Staff there will spend half a week prior to the May 1 smoking ban cleaning the restaurant and repainting to get rid of three decades worth of accumulated smoke odors, he said.
Zing Tweet
Finally, speaking of food, NY Times blogger David Carr blasted out a tweet reporting that Zingerman's Deli sent 20 sandwiches over to Air Force One for the trip home.   Maybe a few #81's ? (Oswald's Mile High). 
Hey – Follow MVictors on Twitter!