A few thoughts on the press conference and media activities down at the Junge Center outside the Big House tonight: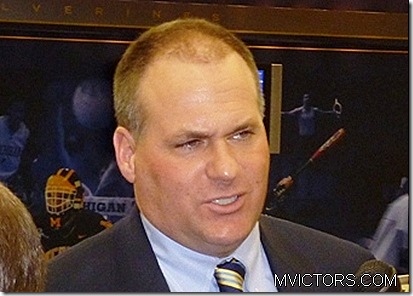 RR getting a bit thin up front, might need to go tight like the Webmaster
To start things off a frog throated Rich Rod, suffering from both the recruiting and flu seasons, gushed about the 27 commitments to the class and identified those responsible in the recruiting process.  Speaking of his voice, ironically an illin' RichRod sounds very much like a healthy, wolf-strangling Mike Barwis.
Then came the general media Q&A and things got interesting, and you'll have much more tonight/tomorrow from the writers.  Dave Birkett of AnnArbor.com and Drew Sharp hit Rodriguez hard on recruiting Demar Dorsey, who was acquitted of some serious legal issues, as summarized by AnnArbor.com:
Dorsey, ranked the No. 2 safety and No. 12 player in the country by ESPN.com, was charged with two felonies while in high school, according to court records in Broward County, Fla.

He was acquitted by a jury on a 2008 charge of robbery with a deadly weapon, and had an earlier charge of burglary of an unoccupied dwelling dismissed.
Dave Ablauf had to step in and request the media move on, Rich Rod suggested people didn't have the entire picture and then urged people to be positive.  Sharp wasn't having it, and you can expect more tomorrow in his column.   Here's the audio of the exchanges if you need it.
For whatever reason Drew doesn't sit with the media–he stands over to the side.  So when he asks questions it becomes a mini production, Drew vs. Coach: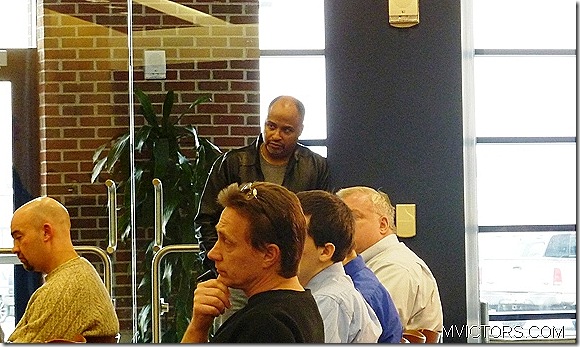 That's Sharp in the back, with LL from LA to the left, and Borton looking stoic in the foreground
Beyond the Dorsey bombardment, the other interesting item came from Rich Rodriquez discussing negative recruiting in the conference:
It wasn't as bad in our league, especially.  Maybe the other coaches can tell you otherwise.  There's only one school, I think, in our league that we think was negative recruiting quite a bit. 
He later said the school wasn't Ohio State.  And we're pretty sure it's not Michigan.  So scuttlebutt around the media narrowed the negative Ne11y (<—11, eleven, get it? I made a funny) to be: 
        * Michigan State – Understandable, given the common instate recruiting battles, turf, logo issues, the pounding vein on Dantonio's head, etc. etc. 
        * Purdue – Due to the Danny Hope-Rodriguez feud including the lingering Roundtree-dipped-in-Snake-Oil-served-in-a-Wizard-Hat imbroglio. 
        * And a surprising third candidate?  Per an insider –>  the Minnesota Golden Gophers and Tim Brewster.  Wow, that'd be interesting but hard to fathom given how few common recruits the schools had.  But never discount the importance and bitterness lingering in the Jug rivalry.
I'm going with the Boilers and WCBN concurs.  I'll ping insiders to get the scoop.
Other Rich Rod stuff:
     * It was assumed Michigan would hire a linebackers coach.  It turns out Greg Robinson will handle the linebackers and they'll look to hire a coach to help out the safety position which will be one of the most watched positions this spring/camp/fall. 
     * Speaking of LBs, Antonio Kinard, LB from Youngstown, may have some difficultly qualifying academically.  If he doesn't qualify RichRod confirmed U-M will continue to recruit him to Michigan.
     * So, Michigan may have 1 slot to fill in the next month but Rodriguez doesn't think anything will happen with it.
About an hour after Rich Rod finished, the seven early enrollees met the media and posed for a few photos:
Back to the negative recruiting, crown jewel of the class Devin Gardner (below) was asked quite a bit about the practice when he met the media tonight.  First, he said former U-M and current Florida QB coach Scot Loeffler did not use negative recruiting tactics vs. Michigan but did push him hard to reconsider his commitment.  Loeffler's pitch involved Tom Brady and a path to the NFL.  No sale. 
But Gardner had a message for the schools that did bash your Maize and Blue.  When asked if he experienced grief from negative ne11ies out there, Gardner dropped this classic blast:
Oh definitely.  Ohio State fans, on Facebook.  They were telling me some unforgiveable things.  But it's okay.  They're going to have to play me someday so I don't know if that was a good idea.
More from Gardner:
Gardner said the Michigan playbook is almost identical to that of Inkster, just with different names for the plays. 
He's very comfortable with his classes at U-M.  Thinks the hype over the work/study load was overblown and he's all over it.
Called the drama over whether he'd be able to enroll early "one of the most nerve-wracking experiences of my life" and was relieved when he found out he was in. 
Despite the focus on the non-criminal record, Gardner offered up a lighter side to Demar Dorsey, "He's one of the funniest people I've met.  I enjoy spending time with him."
He has a roommate, Charlie, who has no idea who Gardner is.  Per Gardner, he's got his nose in the computer all day [that's weird.  Oh wait…..hey!]  And he doesn't see him much other than when he hits the sack.   Here's to hoping Charlie is a prodigy spelling bee/chess champ who was just as highly recruited to come to Michigan for academic reasons.  And he thinks Gardner is oblivious to the situation.  Someone get cameras to follow these guys around.