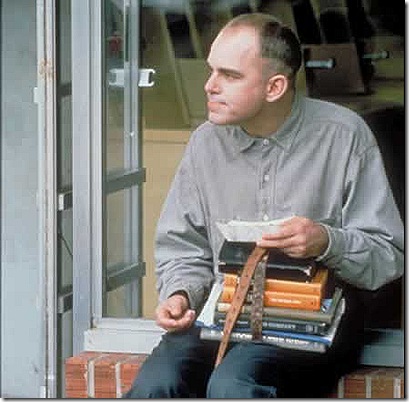 "Reckon there's a lot of peckers there in East Lansing."
So Rodriguez completely played down Tate Forcier's injury on Monday.  He said it was "sore" and that he'd be limited in practice on Monday but would return Tuesday and expected him to play Saturday.  His body language and tone gave the air of the whole thing not being a big deal and he wasn't pressed on it.
But Rodriguez also said practice was closed to the media on Wednesday–the one day of the week media get a look at the team.  And now we've got spies on campus spotting Tate in a sling.
The whole thing strikes me as weird.  I know Rodriguez handles injuries a little differently than most (by producing that Thursday NFL-style report) but if anything, wouldn't Rodriguez at least say he wasn't sure about Forcier's status, even if he had a good feeling?   Toss in the shot of Forcier wincing on Saturday with the sling thing and the media lockdown and the whole thing is suspect. 
Maybe Forcier is really fine and the sling is just a means to help him heal faster or to encourage him to 'stay off' the shoulder.  As reader Lew suggested to me, maybe RR is just trying to keep Forcier focused on playing Saturday. 
I'm skeptical.  If Forcier can't go I see State rolling easy in this one, by almost a couple touchdowns.
Or maybe it'll go like Sean at Michigan Sports Center suggested, a throwback to 2007 with hopefully similar results:
Chances are he will play if he can throw the ball, but it is very reminiscent of Michigan's last game at Spartan Stadium.  Two years ago Chad Henne was injured and essentially listed as questionable for the MSU game due to a variety of injuries.  Lloyd Carr didn't say who would start, but Henne ended up playing through the pain and led Michigan to a comeback victory.  My guess is that this will be a similar situation with Forcier, though I'd be willing to bet that Denard Robinson gets more playing time than usual and certainly more than Ryan Mallett's one play against MSU when Henne went out with an injury.