So Purdue Coach Joe Tiller is mad at the new kid on the block. You've certainly heard his quote directed toward Rodriguez after losing verbal commit Roy Roundtree:
"If we had an early signing date, you wouldn't have another outfit with a guy in a wizard hat selling snake oil get a guy at the last minute, but that's what happened," Tiller said.
So many things bug me about this, some already said some not. First off, the suggestion that Coach Rodriguez is selling "snake oil" implies a RR's master salesman selling a lie. Yes, he's selling fantasies like Rose Bowls, the Rivalry, the NFL and Heisman trophies. Where does Rodriguez come up with this stuff? Tiller is selling the Old Oaken Bucket, giant percussion instruments and the Motor City Bowl.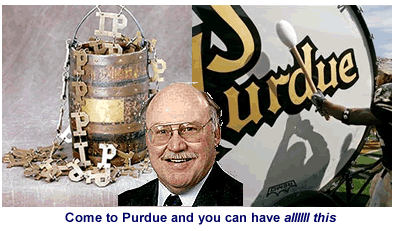 Second, it sure must have been some charming looking Wizard hat to conjure up that spell he put on the naive recruit. Rodriguez actively recruited for Michigan for THREE WEEKS…must have been some slick moves involved to change the mind of a verbal commit.
Perhaps it had something to do with a receiver wanting to play in the Big Ten in a spread offense like Purdue's, only better? For Tiller to put this on Rodriguez is weak. A charming way to welcome a new colleague in the league. Not that he should call out the kid, but how about giving Roundtree some credit for making his own decision? And a decision it was. In three weeks it takes two to tango out of a verbal commitment. Rodriquez had enough to do in Ann Arbor let alone focus on recruiting verbal commits. Roundtree called Michigan.
So perhaps Tiller did the right thing by focusing his anger on an adult and not on the kid. Oh, wait..:
"On the other side of the coin, maybe the guy did you a favor. It makes you wonder about the guy, the people surrounding him, the people in that building who would let that happen."
Over the line!
Judge for yourself. Grasping for reasons why this kid left, Tiller blames Michigan's coach for selling lies then takes a shot at the kid himself. Who's the jerk here? Rodriguez openly admits he'll talk to recruits that open the door to visits and calls even after they've verbally committed. He won't go after kids that aren't taking visits or just say no. Tiller, you lose.