Izzone plays the Erkel Card but loses Spelling bee
The Michigan State Spartans easily handled Tommy Amaker's young Wolverines 71-54 this afternoon at the Breslin Center in East Lansing. Each team came out hot, exchanging three point buckets until the Spartans started to pull away at the end of the first half. Michigan hung around a while in the second half but failed to make headway into a double digit deficit. Finally State put the game well out of reach in the last few minutes. Many players contributed for each team but amazingly only one player from each team reached double digits in scoring (Paul Davis for MSU, Daniel Horton for Mich).
The keys?– The play of Paul Davis. Michigan had no answer for Davis around the basket.
– Michigan's poor free throw shooting (13-21) including missing a handful of front-ends.
– Mich's 22 turnovers (a season high).
– Both teams played solid defense, but State managed to work the ball around for better shots. Michigan is going to have to find a way to get better looks at the hole.
– The Breslin Center is a tough place to play, with the Spartan "Izzone" and Super Fans screaming all game.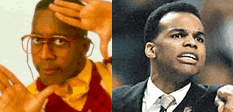 Speaking of the Izzone, Kays and I spotted guy holding a sign that read "Steve and Tommy: Seperated At Birth". The Steve in this gag is TV's loveable nerd "Erkel"; the Tommy is coach Amaker. This got a chuckle out of a few fellers.
The dude that made the sign must of spent a lot of time on it (finding photos of Erkel and Amaker, blowing them up, pasting them on the sign, etc.). Perhaps this Izzoner should spend less time making signs and more time learning how to spell complex words like "separated". Get your brain out of the Shark Bowl, Sparty.