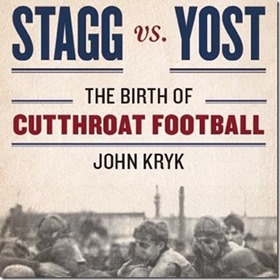 ICYMI – Late last week mgoblog posted an exclusive excerpt of Stagg vs. Yost, the brilliant new book by John Kryk. An excerpt of the mgo-excerpt, which focuses on Willie Heston and his exploits in 1904:
In Michigan's third game, a 95-0 obliteration of vastly overmatched Kalamazoo College in just 40 minutes of play, Heston might have rushed for more single-game yards than any running back before or since, at any level of college football. "As usual, Willie Heston's performance was the headliner of the matinee," the Michigan Daily reported. "A review of the game shows that the captain advanced the ball during the afternoon 515 yards — considerably more than a quarter mile." Heston continually broke away on long gains and scored six of Michigan's 16 touchdowns, four on runs of 65, 70, 85 and 65 yards.

How fast was Heston? The fastest man in the world in 1904 just happened to be a fellow UM student — Archie Hahn. At the Summer Games in St. Louis that year, the "Milwaukee Meteor" became the first man to win the Olympic sprint double: gold medals in both the 100 and 200 meters. Back then there was a 60-meter dash too, and Hahn won a third gold in that race. Two years later, Hahn won the Olympic 100 metres again. In 1901 he had tied the world record in the 100-yard dash (9 4/5ths seconds) and set a world record of 21.6 seconds in 200-meter straightaway dash, a race long since discontinued.
Between us, I'm efforting a different excerpt as well – stay tuned. Get Stagg vs. Yost here.
Follow MVictors on Twitter