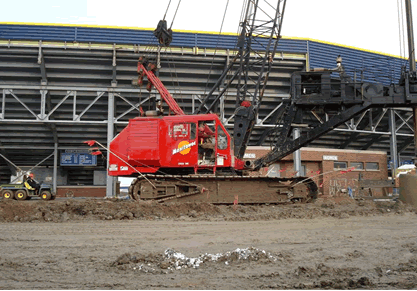 The lead story in today's Ann Arbor News [see Battle brews over Big House noise] it looks like the Stadium renovation project is starting to wear on the local residents.
Here's a few key items raised in the piece:
– As a university project, the renovation isn't governed by local laws. Typically construction can take place Monday-Saturday 7am to 9pm. The stadium construction runs seven days a week from 6am to 10pm in order to meet the goal of completion before the 2010 season.
– The city administrator is arguing that noise that carries beyond the bounds of the stadium should be governed by city law.
– The Ann Arbor City council will take up the matter on April 7th.
Takes:
– Ann Arbor is a liberal town, people are vocal and I guess I'd like the process to run out a little bit so we don't find out that a couple residents are the only ones complaining.
– Many if not most homeowners live near some type of noise, be it a highway or major road, train tracks, airport, whatever, and most of us have to deal with some form of construction noise from time to time. I can understand folks getting a little concerned about three years straight of construction. All this said, I'm guessing it'll be tough for the locals to do anything about this.
– Without knowing much about the project schedule, can't we assume that the noise levels will decrease as the foundation and framing is completed this summer?
– I think every serious Michigan fan has dreamed of living near the stadium. There are certainly some benefits – perfect tailgating, a few righteous bucks from parking, the envy of your friends, etc. Don't some of the benefits of living near the stadium come with the price of dealing with crowds, traffic and yes, construction?
– Would love to hear from some of the folks that live near the site and get their take on how disturbed they really are about the project.

Related posts:

* Stadium renovation update, YouTube style and photos.
* How it'll look for kick-off 2008
P.S. Yes, I mean folks who live near the stadium, not gnomes that dwell in under the overhangs