Happy New Year!  Thanks everyone for making this the biggest year yet for this site, toppling 2 million in visitors all time.  A special thanks to the sponsors, my fellow M bloggers, all the comments and all the fantastic emails especially of late, many of which have resulted in some cool posts.  I'll be down in Jacksonville tomorrow so check back here for the usual sights, sounds and takes from the game.
Speaking the New Year, here's the next entry in 'This Week in Michigan Football History' to be played Saturday on WTKA 1050AM's Key Bank Countdown to Kick-off pregame show before tomorrow's battle against Mississippi State in The Gator Bowl.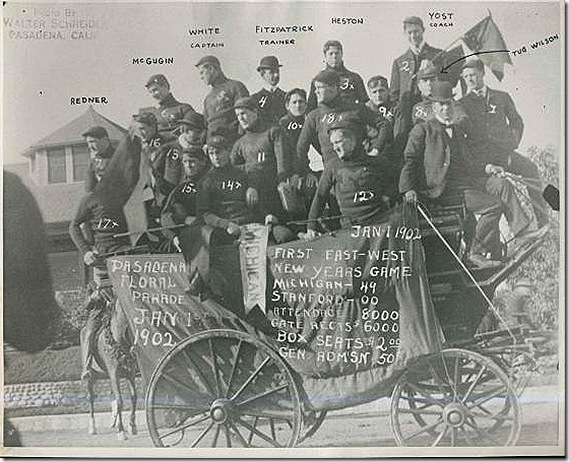 This time we look back to the season of 1901 and the first postseason game of its kind, "The Tournament East West game", later known of course as The Rose Bowl.   It took Yost and crew eight days to get to LA to take on Stanford, the team Yost coached in 1900.   At stake was not only the game, but also Michigan truly perfect record of 10-0, outscoring opponents 501-0 up to that point.  Above is a shot of the Wolverines on the parade float that morning.
Here's the clip you'll hear tomorrow on the pregame show:
This Week in Michigan Hockey History - First Rose Bowl
Play Now
|
Play in Popup
|
Download
Here's more on the 1901-02 squad:
* 1901 Season Football Pass –  Season pass to Yost's inaugural season, probably started the 'eBay Watch' tradition.  I wish I had purchased this thing.
* Rah-Rah-Rah Rose Bowl Rout – First Rose Bowl pin?
* Some Vintage Rose Bowl Cheer – Entire team in Rose Parade
Follow MVictors on Twitter