[Ed. Given it's Movember again, had to repost this beauty from back in 2013 from Dr. Sap, celebrating the greatest 'stashes in U-M history.]
The All-Schembechler mustachioed offense.   I supplied the stache'd Schembechler and the mustache ratings.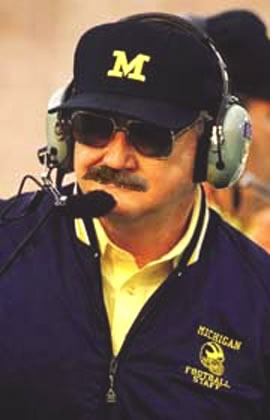 Offensive Guard
STEFAN HUMPRIES
1980-1983

Center
TOM DIXON
1980-1983

Offensive Guard
REGGIE McKENZIE
1968-1971

Don't let the look deceive you, #76 was as good as it gets on the O-line.

Anchored the All-American O-line in 1981.  Every player ended up being an All-American selection.

The standard by which all U-M guards are measured.
| | | |
| --- | --- | --- |
| | | |
| | | |
| Dude still looks tough today even without all the hair and the bowtie. | Fastest dual-threat QB Bo had and could do it on the ground or in the air. | Bo's largest player at 6-8, 322. Fact: was a Road Grater and Pancake Machine |
| | | |
| --- | --- | --- |
| | | |
| | | |
| Knew he was special when he scored a touchdown the 1st time he touched the ball. | Most memorable catch was the game-winning touchdown against Notre Dame in 1980.  I still refuse to accept the final score! | Played opposite AC but had a knack for getting BOTH feet in bounds. |
Tailback
BILLY TAYLOR
1968-1971


The charter Movember member loved to wear stylish teal Puma cleats back in the day.

Might have been the lightest player to don the maize & blue but he delivered the game-winning FG against Iowa in '83.

Completed Rose Bowl vendetta with his 1-yard TD run against Washington in the 1981 Rose Bowl victory.
Thanks Sap!  I needed that after Saturday.   Will we see a defense?  TBD!
Update:  Yes, we have a Defense!
Follow MVictors on Twitter