[Ed. You know I'm a huge fan of Steve "Dr. Sap" Sapardanis & he's featured here each postgame with Dr. Sap's Decals. You might know that his detailed knowledge of uniform tweaks since the Bo era helped spearhead the Uniform Timeline. Bottom line – the Sap mind blended with the Sap archives is a Wangler-to-Carter-esque combination. God willing Sap will be sharing a few of his favorite stories and anecdotes on these pages in the future and here's one for you.]
Guest post by Dr. Sap
We all know that former UM All-American QB Rick Leach has Michigan ties that run as deep as perhaps any Wolverine player. His dad and uncle both played varsity baseball for the maize and blue and Leach himself was born at the U-M Hospital. But when Leach got married, there was a big red Nebraska tinge to his wedding day.
This was all explained during the 1986 Fiesta Bowl Preview Show that was hosted by Fred Hickman on Detroit's WDIV-TV station. Father Kenneth McDonald from Mason, MI officiated Leach's wedding. Not only was the Father a huge Cornhusker fan, he actually wore a red robe during Leach's wedding ceremony! Believe it: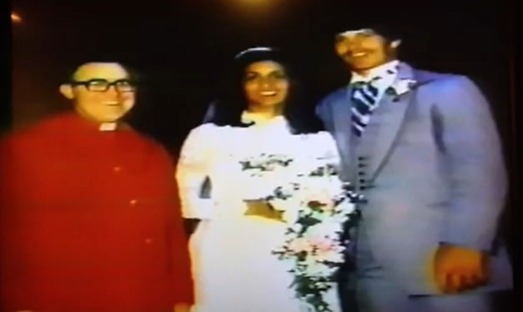 When asked if he was a fanatic, the Father responded that he was "more of a loyalist."
On a side note: There was also a bit of green at the Leach wedding. Some of you may have heard Ricky last week on WTKA 1050AM talking about the MSU game. On that show Leach mentioned that former Spartan flanker Kirk Gibson, his teammate on the Detroit Tigers, was one of his groomsmen that day!
Follow MVictors on Twitter