Both Michigan and Michigan State face interesting challenges on Saturday, both in situations where the traditional powers are rare underdogs:
Underdogs, Part I Michigan is an underdog at home for the first time in recent memory. I believe Florida State 1991 or Miami 1988 was the last time? I think the underdog status is justified if you look at the season on the whole and consider Mallett will certainly be forced to make some big plays. That is, if Mallett indeed starts. Carr mentioned this week that Henne tooks some snaps in practice. I'd take Penn State and expect them to pull away tomorrow. Win, and Penn State remains Michigan's obedient little bitch. Also, if anyone can find any evidence that the Figurehead (JoPa) actually is doing any coaching please send it here.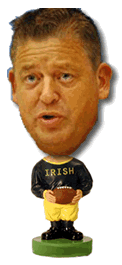 Underdogs, Part II The Spartans roll into South Bend looking for a 6th straight road win over the Irish. Unreal and impressive. Odds makers have the Green as a 13 point favorite. While folks like Bill Simonson of the 'Huge' show think this is a must win for MSU, I disagree. I don't think there's shame in losing to Notre Dame at home even this season. Especially in Dantonio's first year. Win, and it is a great win for his new program. A loss is a big disappointment but won't derail what Dantonio is trying to do this year. After seeing that trainwreck last week (and with only seeing a little bit of State), I think MSU pulls out a sloppy, close game. Win, and South Bend remains the Spartans' little obedient bitch and they can plant a flag in Charlie's Weis's robust arse.