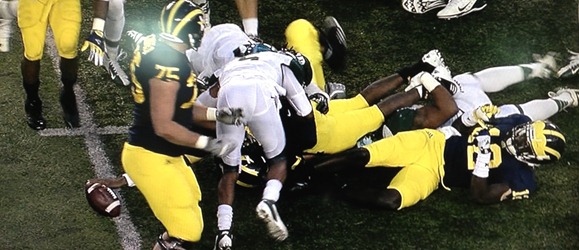 BTN
State deserved to win last year; Michigan deserved to win this time.   Bite sized game takes:
* Dileo is getting a lot of praise but give the line and Denard mucho props on that play that set up the winning kick, and of course for the stretch (above).
* I give the State defense a lot of credit.  Gallon had an uncharacteristic drop (sure, the ball was behind him but you hardly ever seem him drop the pigskin), but MSU's defenders made 3 or 4 solo tackles that prevented touchdowns.
* I join many others in giving Dantonio props for the showing some piedras on the fake punt.  I don't blame him so much for trying the play action on the last drive.  He took a calculated risk to win the game and I think it was worth a shot.    Notre Dame won the game on a pass late in the game a few weeks back.   The only thing I would have told Maxwell – if the receiver was absolutely not there, make like Denard and tuck and run.
Misc:
* On rivals.  Still lots of talk out there about where Michigan State ranks amongst Michigan's most important opponents.   While rivals can change over the decades (ask Chicago and Minnesota if you can find someone old enough—or me, Kryk or Bacs), to me it's really a personal question not an established program-wide truth.   I see the difference between MSU and Ohio State this way—relative to each other, it hurts more to lose to MSU but it feels better when you beat the Buckeyes.  That won't be the case this year.  I'll say it:  I would trade this win for a victory over Ohio State in 2012.  But rivalries aren't established over a handful of games.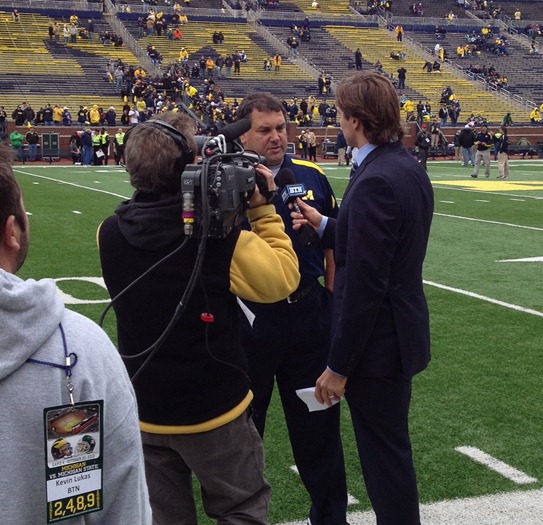 * As J. Lehman was interviewing Hoke during pregame (above), I heard a woman on the sideline (with a sideline pass mind you) gesture over to Hoke and ask, "Is that the coach?".   I gave the Jim Halpert stare to anyone who wanted it.   And a lot of guys wanted it.
* Gibby's kick was good by about two feet.  So if you are wondering what the difference is between Wolverine jubilation and a fanbase meltdown, this week it's about two feet.  Speaking of that kick, I was right under the post next to Everitt (we collectively weigh about 550) so I had a great view of the ball.  But normally I do what Hoke does so this cracked me up:
Dileo said on the radio that he thought the kick was going wide right. What was your view?

Hoke: "I watch the people sitting behind the goal post. Because they'll tell you. I'll be honest with you. You can't see it from [the sideline]."
* The Willis Ward presentation was fine, but I would have preferred some actual footage of Ward and perhaps more importantly, it would have a been special and symbolic if they had some family members on the field and at the game.  If you don't have it, get Black and Blue – the latest cut includes actual game footage of Ward and Ford and the '34 team.
* Spartan helmets.  They looked silly in person (light green?) but to me they looked ok on TV. 
* All trophies.  I get why they didn't, but I was genuinely pissed after the game that the players didn't break out the Paul Bunyan trophy and trot it around the field. That's probably because I've had to endure the State players doing the same the past several years and I wanted mine.   This is the first time in over 1450 days that Jon Falk has held each of our rivalry trophies– the Jug and the Big Paul.
More??  Get it: