A quick round-up of stuff to check out beyond this pages now and this fall:
This Week in Michigan Football History…yes! – It's back for the 2013 season so Go Blue. For the fourth season I'll cut an audio segment on the history of your beloved Wolverines for the WTKA 1050AM Countdown to Kickoff for each game this season. Once again, to Angelique's delight, I'll bring it with #toughness. Ira and I are looking at the dates and working through the lineup. Check out the archive here. I'll also continue to give you sneak peek Friday afternoons for your tailgate mixtapes, etc.
Hail to the Victors 2013 – You don't have it yet? And you call yourself a fan? Get it here and read my full interview with Bob Bergeron, five myths about the Little Brown Jug and finally, a little bit of Ron Kramer uncensored. That's right, I said Kramer uncensored! So get some!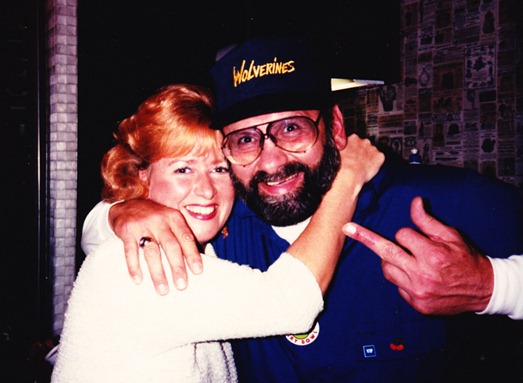 Kramer says, "M fans, I salute you!" photo courtesy Peg Canham-Keeley
Lindy's – I'd like to say that 3 times followed by ".get your adverbs here" but only a handful of you would have any idea what I'm talking about it. In this year of the 110th anniversary of the founding days of the Little Brown Jug rivalry and the 100th meeting between Michigan and the Gophers, you'll get your full of those wild stretch of days when the jug went missing between 1931 and 1933. There's much, much more of course including at piece on Taylor Lewan from Brad at Maize & Blue Nation – Get your Lindy's here, just $9.99.
#1000SSS – That stands for 1000 South State Street, and that means official athletic department business, and that's what it is. More specifically I'll have a few contributions to the game program again this year and maybe on mgoblue.com. So far I've helped out a bit with some cool Tom Harmon content in the UTL2 Notre Dame program, but that's still in the works. More on that later.
MVictors T-Shirts? – There just might be something in the works.
Related: A full rundown of stuff Elsewhere all-time
Follow MVictors on Twitter