At least there was this >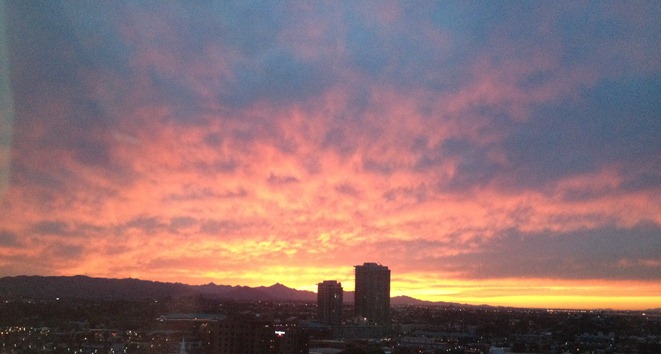 A few final thoughts coming out of Tempe:
Morris > Heading into the game I expected KSU to win, but mainly because I figured Morris would struggle and Wile would send a couple kicks into some kid's ear well outside the posts. I was pretty damn impressed with #7, especially in the first half when the game mattered and of course Wile went 2-2. Morris showed poise, seemed prepared, showed some athleticism and smarts with the pigskins, and wasn't the reason Michigan lost the game. And that makes this loss harder to take/understand. After seemingly pulling things together for the Buckeye game we reverted to a mess.
Leadership? > The team just seemed splintered (guess so, see mgoblog) and sadly in the second half they were disinterested on the sidelines. The Michigan bench went church mouse. So this year is done and we're onto the next. Look man–Jake Ryan will be a senior and presumably the leader of this team. He needs to start with seniors, set the story straight with the incoming freshman and get the rest of the team on board and help the coaches build a true cohesive squad.
Coaches > Of course a big part of creating that cohesive unit is on the coaches, and this season was of course a massive failure. Hoke promised to create a foundation of toughness and…welp..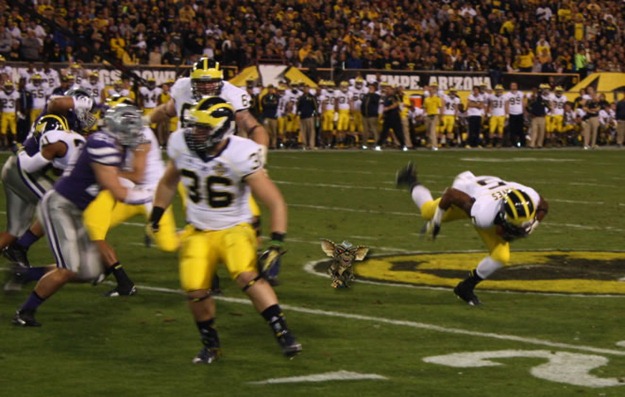 After the final whistle I heard one of the (of seemingly 100s) of maize-and-blue support staffers tell another, "Something's got to change." Yup.
The Misc….
Timeline > Team ended the year once again donning the LHS sticker, and as expected they wore the bowl sponsor patch. Uniform Timeline is updated: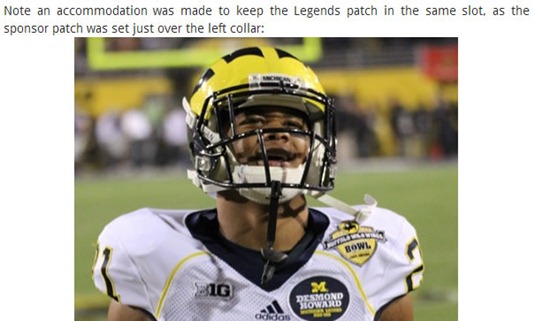 Maize shoes > Also of note you could see Shane Morris's maize shoes from space.
History Notes >
* You probably heard but here's another kick in the giblets for you:
Notre Dame is now 874-305-42 all-time. That equates to a winning percentage of .7330057. Michigan drops to 910-321-36 for a winning percentage of .7324388. For those keeping score at home, or most notably in South Bend or Ann Arbor, that is a slight .0005669 in favor of the Irish.
Via mgoblue:
Shane Morris became the third true freshmen quarterback to start a bowl game for the Wolverines. He joins fellow lefty Rick Leach (1976 Orange Bowl) and Chad Henne (2005 Rose Bowl) as the only rookie signal-callers to lead the Wolverines in a bowl game. [Ed. coincidentally each wore #7].
Senior wide receiver Jeremy Gallon set the Michigan single-season record for receiving yards with an 89-yard output against Kansas State. He finished the season with a school-record 1,373 receiving yards, surpassing Braylon Edwards' previous program record (1,330 yards, 2004).
Mood > Bah.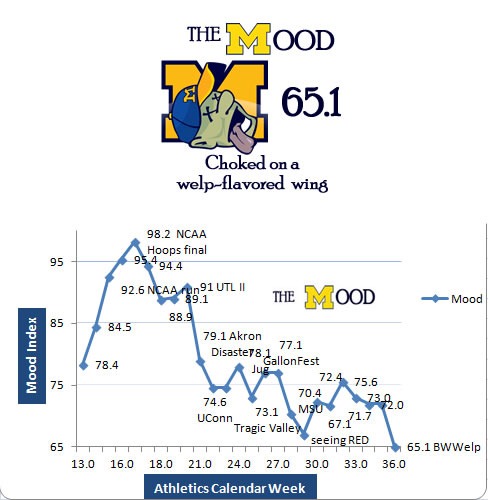 Thanks > A special thanks to MaraWatch for helping me look good in 2013 despite the results. A salute from outside the Camelback Inn in Scottsdale: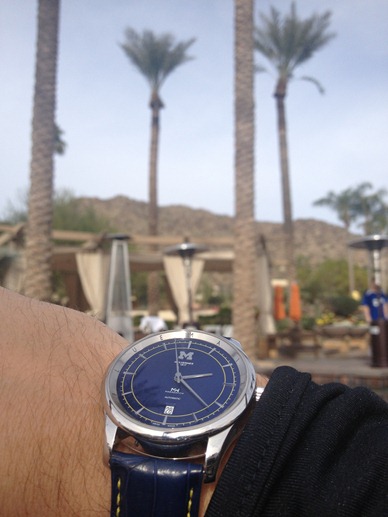 Follow MVictors on Twitter
P.S. As best as we could do, check out Game Photos here.