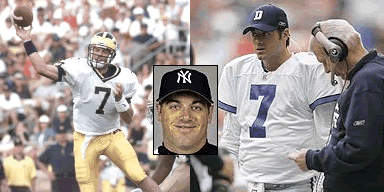 Just heard on the radio that due to Drew Stanton's injury, the Detroit Lions signed former M QB Drew Henson to a contract. Last I heard Henson was cut by the Vikings and I figured that would end his playing days.
Update: Per the Detroit Free Press:
The Lions closed the locker room to the media Friday, and Henson was unavailable for comment. He is not expected to seriously contend for a roster spot, just to help the Lions get through their final two exhibitions.
Agree with the Freep take. But if he's taking this position he thinks he can still play (it's not about the small paycheck). So, perhaps Loeffler can work some magic with the Brighton prodigy.