Guest post by Steve "Dr. Sap" Sapardanis
On a cold, cloudy, 34 degree November Saturday in Ann Arbor, Mike Lantry pulled Michigan from the depths of despair to the heights of ecstasy. In the last minute of the tenth game of the 1972 season against the Purdue Boilermakers, "Super Toe," as Bob Ufer referred to him, kicked a game winning field goal….that no one remembers.
Before getting into the reasons why this moment is lost in U-M lore, here's how it all went down:
Trailing 3-0 at the half against a very determined Purdue defense, Michigan came out and scored a touchdown on their first drive of the second half. Unfortunately, Lantry's PAT was wide right and the Boilermakers now only trailed, 6-3.
After Purdue tied the game at 6 with field goal on the last play of the 3rd quarter, Lantry had a chance to give Michigan the lead early in the 4th quarter. This time his 49-yard field goal attempt came up short.
Later in the final quarter, as Purdue drove down the field looking for the win, Randy Logan intercepted a Gary Danielson pass to set up a final shot for Michigan.
With the weight of the game (as well as the season) on his shoulders and left toe, Lantry composed himself and calmly booted a 30-yard field goal into a swirling 8 mph wind with one minute and four seconds remaining to give Michigan the 9-6 victory.
Lantry's fourth field goal of the year kept Michigan undefeated heading into the season-ending tilt with Ohio State the following week. The next time Michigan Stadium would witness this would be 11 years later when Bob Bergeron kicked the game winner against Iowa in 1983.
So why has this game-winning, last minute field goal not been remembered as such a big deal? First off the game was not broadcast on TV. On top of that, there is no known audio clip of Ufer calling this game-winning field goal, not even in the deep archives of the King of Michigan Media Art Vuolo. And of course an audio clip might have helped immortalize Lantry (alongside the likes of Bergeron, Brabbs, etc.).
Thankfully the U-M Bentley Historical Library came through with a classic pic of Lantry's heroics from longtime photographer Bob Kalmbach: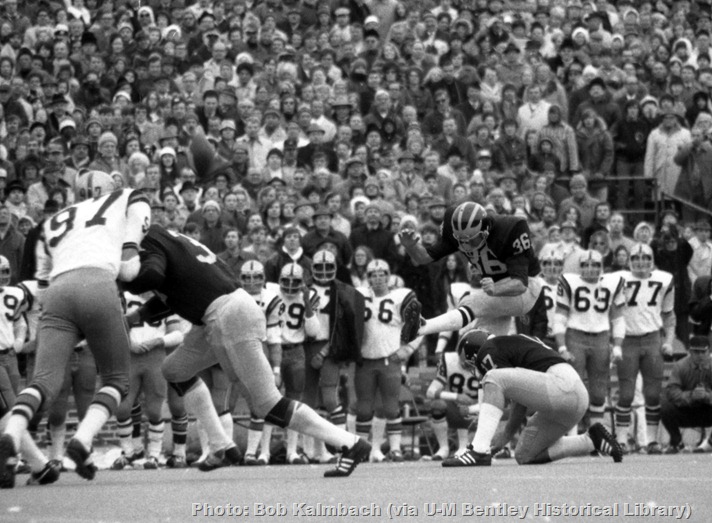 Attention(!) If anyone out there has Ufer's call of this clutch field goal, by all means please pass it along!
Follow MVictors on Twitter