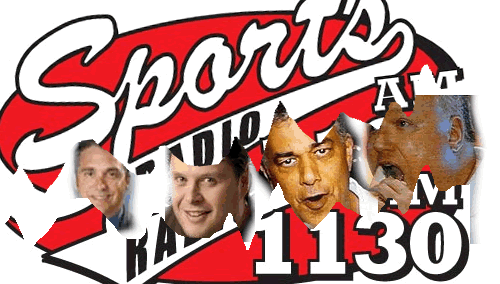 What a shocker!  Thanks to BiggieMunn for the scoop – word is out that WDFN 1130AM, the leading voice for Detroit sports radio, cut most or all of its local talent including the prolific drive-time standby, the Stoney and Wojo Show.
Obviously I'm stunned.   The show, which features Mike "Stoney" Stone and Detroit News columnist Bob "Wojo" Wojnowski, had been the go-to show in Detroit since its debut in April 1995.   Wojo's paper got the scoop and quotes from the hosts:
"It's a really sad day because I loved working at that station," Wojnowski said. "And I know a lot of Detroiters have loved listening to the station for the past 14-15 years. It's just another sign of the times, a very sad sign."

Said Stone: "I will miss it terribly. People tell me the show meant something to (them). That's amazing. Hopefully, somebody will want to pick up 'Stoney and Wojo."
This site has (had?) a relationship with WDFN on its Michigan football page and I've swapped emails with WDFN program director Rona Danziger in the past.   I sent her an email tonight hoping for some reaction.
Included in the cuts was solid mid-morning man Sean Baligian (of 'It is what it is') who apparently didn't learn of the cuts until after this morning's broadcast.  Said Baligian, "..we've all been hearing rumors for a while that something big was going to happen. I didn't think it would be like this, but I'm not surprised. Radio is a tough business, and we know things can end quickly."
Update:  If all the local staff is let go, that would include relatively new morning host and Michigan basketball radio play-by-play voice Matt Shepard, who's wonderfully titled morning show 'Shep, Shave and Shower'.
So what happens from here?  It's not clear. WDFN's website says "We're remodeling..".