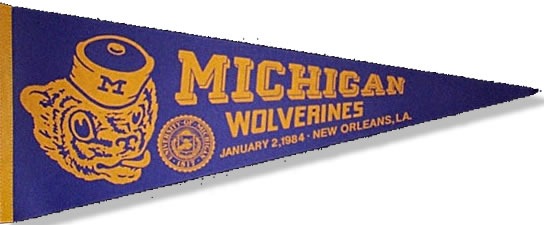 Vintage Michigan Sugar Bowl Banner from '84 on eBay now
Just a few Sugar Bowl bullets in the aftermath of the selection show and the reaction over the past few days:
> New Orleans.  The site of one of the most heartbreaking moments as a Michigan fan.  As a student in 1993, I saw it all play out about 15 rows behind the bench at a student and still remember the feeling after that game.  Or maybe it was the hangover from being at Pat O'Brien's until 4am Sunday morning after the Kentucky win.  It'll be my first time back and there will certainly be some memories.
> BCS.   So it's nice, I suppose, to be selected to play in a BCS bowl and being the main attraction on Jan 3rd is a nice benefit.  We know why Michigan and Tech were selected.   But beyond that, I don't consider it great feather in our collective fedora that Michigan was selected to a BCS bowl.    To me, outside of the national championship game and the Rose Bowl the only thing I want to see is a decent venue and more importantly, a quality opponent.   I have a feeling that many M fans were so hung up on the concept of getting a BCS bowl bid and by-passing the Spartans in the pecking order that they would have settled for anyone as an opponent (even Houston) just to say "Look Mom, BCS!".     Historically speaking, I don't really look back at the 2000 Orange Bowl and take pride in the fact that it was a BCS bowl, do you? I look back at it and think about that incredible win over Alabama.  If you read this and go, "What's your problem, man?", don't.  I'm excited about all this.
> Fans.    Man, maybe this will subside but from the sound of it that town will be packed with Michigan fans and I can't recall more excitement about a bowl game in recent years.   I hate to say it but even the Rose Bowls in the 2000s didn't seem to be a must-see event.   With Tech losing some horribly last weekend you have to wonder if the place will be 75% maize and blue.
> Random Virginia Tech sidenote.  So we know Michigan and Virginia Tech have never faced each other.  I actually saw Tech play back in 1995 against Virginia.  I was living in the DC area at the time and a group of us randomly decided to head to Charlottesville for the game.  (Great time, nice campus).    Well, 1995 was of course Lloyd Carr's first season and he led off with that 18-17 last-second comeback victory featuring the Dreisbach to Hayes game winner against Virginia.  Well, when I visited Charlottesville, sure enough, Virginia's Tiki and Ronde Barber were served again—this time by Jim Druckenmiller and the Hokies who scored 22 unanswered points in the 4th quarter to take down the Cavaliers 36-29.
See you in New Orleans?