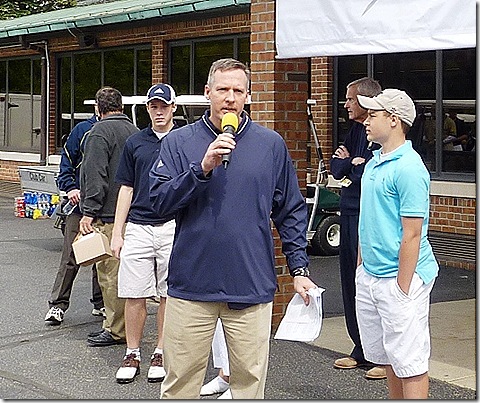 Hewlett welcoming everyone to the event
An excellent event put on by former Michigan QB Rich Hewlett as today he held his 2nd 'Swing to Cure Diabetes' event benefitting the U-M Comprehensive Diabetes Center and the Juvenile Diabetes Research Foundation (JDRF).   Coach Lloyd Carr and Cathy Schembechler were the honorary co-chairs once again.
Joining Carr and Schembechler amongst the golfing groups were coach Jerry Hanlon, broadcaster Jim Brandstatter, former NFL coordinator Sherman Lewis, and several of Hewlett's former U-M teammates. 
A couple years ago Mrs. Schembechler donated a football that sat in Bo's TV room signed by Bo and Don Canham for the silent auction.  This year she brought something quite unique – a handwritten set of talking points (on a manila file folder) that Bo would use during public speaking events.  It sold for nearly $1,000 and I was able to get a shot of it from the winner, here's just a clip:

Coach Carr made it around the course to meet and take pics with most of the golfing groups but not mine :( .    A couple more photos from the day: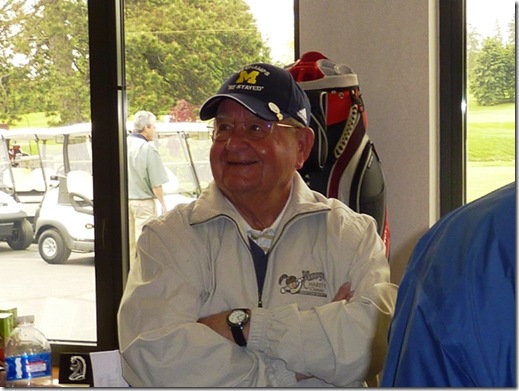 Coach Hanlon donning his "We Stayed" lid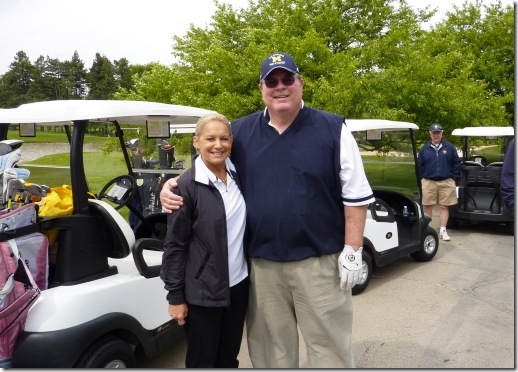 Brandy with Cathy Schembechler before we teed off