I don't feature ticket stubs very often on eBay Watch but this one is special.   On its face, this musty, chewed up stub from the 1943 Michigan-Michigan State game doesn't look very valuable, does it?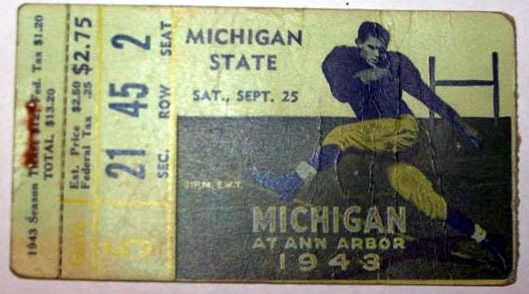 I'm guessing the seller had no idea and is wondering why as of Saturday afternoon it had 17 bids, the tops at $330.   It was a very nice season by Fritz Crisler's crew, going 8-1, sharing the conference title and finally beating freaking Minnesota whom they hadn't beaten since 1932.
Readers of this site might recall that this is a very rare find, so rare, in fact is that it was the final stub that local Jack Briegel needed to complete his collection of every game played at the Big House (dating back to '27).    Thanks to a gift of this stub in 2011 from fellow collector Ken Magee, Jack got that final piece of the puzzle.
It's rare for a few reasons as I explained in an earlier post:
The ticket to that September 25 game actually lists Michigan State as the opponent.   But the Spartans did not field a team that season as it was common for teams to shut down their football squads that year due to obligations to the war effort.  Folks seemed to have better things to do that fall day as just over 14,000 bothered to show up, and apparently it wasn't memorable enough for many fans to bother to hang onto their stubs.
Toast to Yost.   Speaking of stubs, reader Brian pointed out this ticket stub published in the Ann Arbor library archives.   It's a ticket to the celebration for Fielding Yost in 1940, the event from which I've posted a few audio clips recently.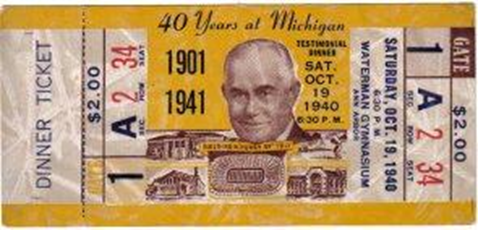 I wonder if Jack or Ken have this one?
The entry associated with the above image states "..the event was held in the compact Waterman Gymnasium. It might have been held at the relatively new Yost Field House which created some controversy among faculty members when Yost named the building after himself."   
Umm, except the Field House was built by and named after Yost in the 1920s, sooo…
Follow MVictors on Twitter