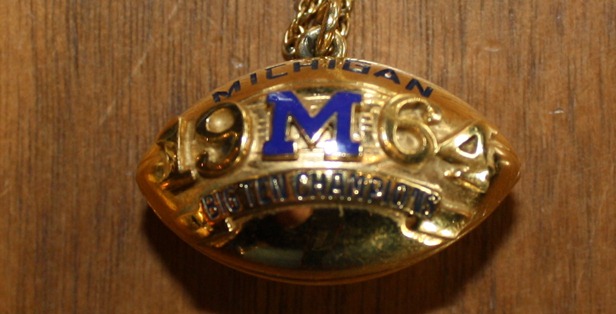 Conley's 1964 Charm. How he earned it? Read below. How got it in his hands? click here.
[Ed. On Saturday the 1964 championship team will be honored during the Minnesota game. Earlier this year I spent a couple hours with the (lone) captain on that squad, Jim Conley. The full version of this story is available in mgoblog's wonderful annual Hail To The Victors mag. Given it's their week, here's a tighter and yes, less spicy, version of the story of that great season.]
"You've got to remember, we were a bunch of losers."
That's how 1964 Michigan team captain Jim Conley labeled his team before summer training camp. But somehow this group of losers, who won just 5 games in 1962 and 1963 combined, captured Michigan's first Big Ten title since 1950 then pummeled Oregon State 34-7 in the Rose Bowl. Bump Elliott's team transformed into a powerhouse that put away four top-10 squads, including powerful rivals Michigan State and Ohio State on the road. They crushed teams led by a returning Heisman-winning quarterback in Roger Staubach (Navy), and a squad (Illinois) that featured Dick Butkus, arguably the greatest linebacker in football history.
So how did it happen? Perhaps more importantly, why are these champions — who were literally inches away from a perfect season and a national championship — generally ignored by you, the well-informed diehards that make up the Michigan football fan base?