Once again I had the honor of witnessing the finishing touches on the Minnesota-Michigan game.  Monday afternoon artist Jil Gordon painted Saturday's tally on the Little Brown Jug under the watchful eye of the jug-bearer, longtime U-M equipment manager Jon Falk.   (If you missed Angelique's piece on Gordon last week, check it out here.)
Here's a few photos from Schembechler Hall: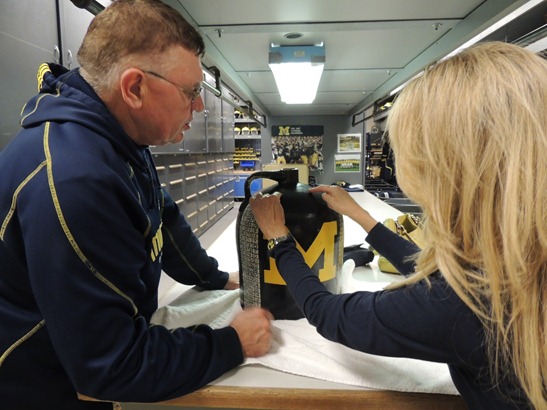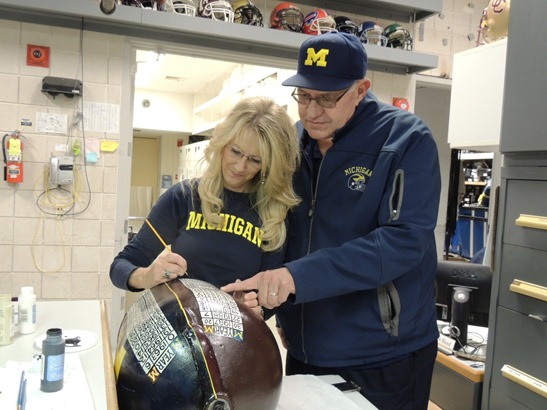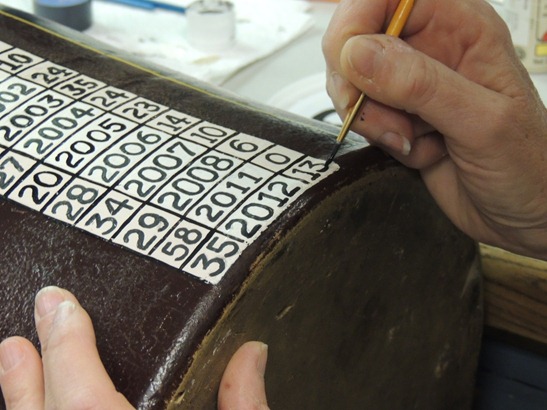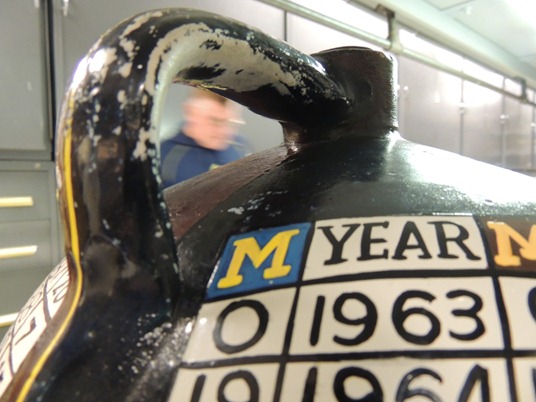 Jil was also able to get her hands on the replica inside the SH museum and tighten up the scores on that beauty as well: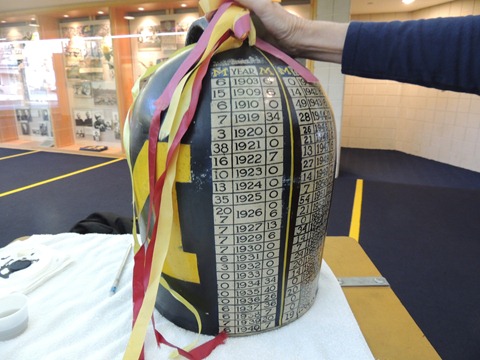 The Space Quandary.  So the big question of course is what to do next season, as today Jil filled up the last slot left on the old crock in the current grid configuration.  Options, ideas, et cetera have been discussed on these pages before.   My gut:  they will add new space for scores above the Ms, a single short column above, and a pair of columns below.  All told you can record around 32-38 additional scores that way.  
Maintenance.  A couple folks noticed in a tweet today that one year was blanked out.  Explanation:  When she updates the jug, Jil will occasionally (and thankfully) do a little maintenance.  The 2001 cell was a bit choppy – it's all good now.
Data.  In the 93 games in the series (and I'm counting 1903 because the score is on the Jug), the average score is Michigan 24.2, Gophers 11.4.  Minnesota has tallied 1059 points to the Wolverines 2247. 
Since Bo arrived in 1969, the average score is <cough> Michigan 37, Minnesota 12.4.
Follow MVictors on Twitter (and you'll get some of this stuff as it happens, bro).  Also checkout Jil's artistic talents here.
More Jug Lore:
Chapter 1: What Really Happened in the 1930s
Chapter 2: Spinning Myths
Chapter 3: Getting it Right
Chapter 4: 2013: A Space Quandary
Chapter 5: Red Wing Roots
Chapter 6: Is the Greatest Trophy in College Sports a Fake?
Chapter 7: Open Questions
Chapter 8: Doc Cooke and the Real Origins of the Rivalry
Chapter 9: Gophers Here, Gophers There – When Michigan played Minnesota Twice
Chapter 10: How It Started: Minnesota Madmen 6, Michigan Machine 6
Chapter 11: A Righteous Sip, and Why Michigan Bought the Jug
Chapter 12: Making It Official—Jil Gordon & Painting the Little Brown Jug
Chapter 13: 40,000 Jugs—Financial Analysis from 1903