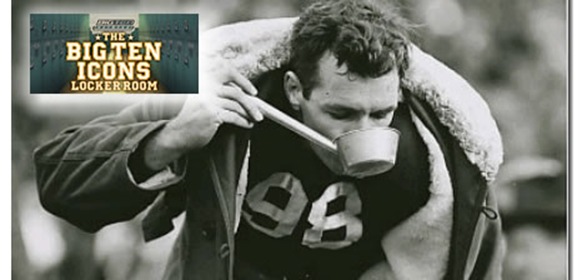 This morning the BTN revealed that Old 98 Tom Harmon will be the next athlete featured in their Icons series.  The Harmon segment will appear on Super Bowl Sunday at a special time: 2:30PM (and will re-air again at 9pm). The BTN cameras were on campus last week interviews for the feature.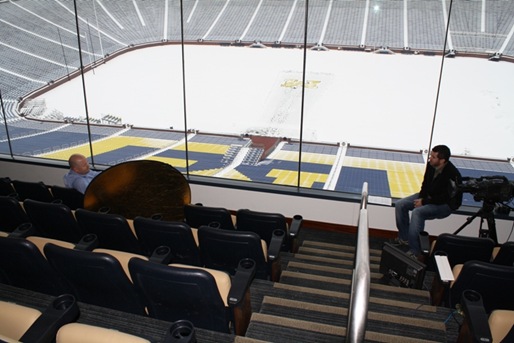 This week I'll run a few posts on interesting things you might not know about Harmon.  You know he's #98 and the Heisman winner and of course he's actor Mark Harmon's dad.  (Mark did consider coming to Michigan FWIW—his pops stayed out of it.)
For starters, here's a little about Harmon's exploits before he even strapped on Crisler's new-fangled winged helmet:
High School Days
Harmon was beyond a standout athlete in high school—he was off the charts.  It was in his blood, demonstrated by his athletic family.  Two of Harmon's brothers ended up at Purdue, another at Tulane.   In addition to being named all-state quarterback twice, Harmon earned 14 varsity letters at Horace Mann High in Gary, IN.  He captained the 1936 basketball team and won the state title in the 100-yard dash & the 200-yard low hurdles.   He tossed three no-hitters in AAU summer baseball.   Fielding Yost called him the scholastic athlete of the year.
It was in high school that Harmon also settled on the famous 98 jersey.  The stories differ, even in the Harmon family.  Basically it goes something like this:  Tom was a freshman on his high school team and he got in trouble with the coach for chewing gum and blowing bubbles.  (Some versions have him being sent to the locker room to take off a jersey he's already wearing.   In others he's not wearing a jersey at this point).   As a sort of punishment, he's asked to return kick-offs against the varsity and of course no one can catch him.    The coach, seeing his brilliance, asked him to go grab a uniform.  Young Tom picked out the best available gear in the locker room and returns to the field.  The coach noticed that Harmon chose the jersey number of the star running back and sent him back to the locker room to pick out something else.  All Harmon can find is a dingy #98 jersey in the corner and he threw it on.   He embraced it.
The Harmon segment will appear on Super Bowl Sunday at a special time: 2:30PM (and it will re-air again at 9pm).