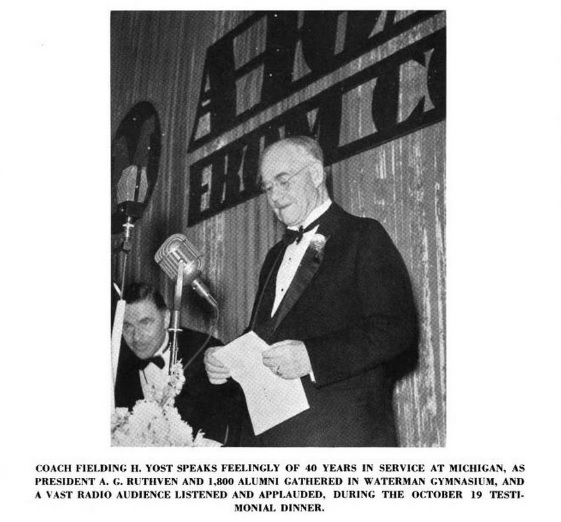 H/T to my man Craig Barker of HSR for the reminder and as always, the epic calendar entries in the Michigan Athletics History Calendar.  On this day in 1940 the 'Toast to Yost from Coast to Coast' was held at Waterman Gymnasium.  Fielding H. Yost was honored by a host of dignitaries – (Willie Heston, Tom Harmon and Louis Elbel to name a few) in an event that was broadcast on NBC radio around the country.
The Bentley Library has the original recording of that tribute.  It's a tad choppy in spots but well worth a listen if you have the means.   The highlight for me is certainly hearing the voice of Yost as he addresses the audience.   Here's a small clip where the 69-year old Yost recalls stepping off the train in Ann Arbor for the first time:
Fielding Yost from 'A Toast to Yost from Coast to Coast' - Bentley Historical Library
Play Now
|
Play in Popup
|
Download
You get a taste of his famous "Meechigan" at about 14 seconds in, which endures today thanks to Bob Ufer, Chris Fowler and TWIMFbH.
There's much more in the event, even a speech from
then-judge Willie Heston
– the star of Yost's epic Point-A-Minute squads from 1901-1904.
Follow MVictors on Twitter