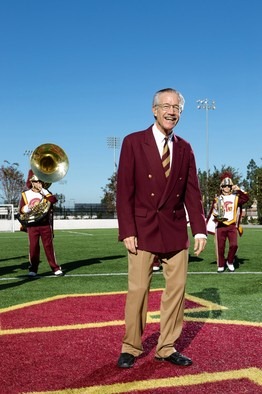 HT to Papa Dools for this one from this weekend's WSJ.  It's a piece on Michigan grad Arthur Bartner (left) who's commanded the USC marching band since 1970.   Of note:
Mr. Bartner, who played football and basketball in high school in New Jersey, gave up sports to join the marching band at the University of Michigan, where he eventually earned his doctorate in music education while directing local high school bands. At Michigan, he said the band felt emotionally disconnected from the football program. So when he took the helm at USC in 1970, he took the unusual approach of trying to marry the band and the team together, modeling his program as closely as he could after the team and maximizing the interaction between them.
Hmm.  So from googling around I assume Bartner's band tenure was in the early 1960s.   I also understand that Bo did things to create a tighter bond between the band and the football squad. 
That said, I'm curious from past or current band member—do/did you feel an emotional connection with the football team?   Do you care? 
Follow MVictors on Twitter