Today marks the 110th anniversary of Willie Heston's final game at Michigan.  Heston was Michigan's first superstar, a two-time All-American, who scored (somewhere around) 72 touchdowns.  From 1901 to 1904, Heston's teams went 43-0-1 and are credited with four national titles.

I'll have more on Heston later this year.
Hearing Willie
Back in 2012 I posted a short audio clip of Fielding Yost from the 1940 nationwide radio tribute the man titled, 'A Toast to Yost from Coast to Coast'.   Check it out if you missed it.   In that post I promised to share a few more clips, and thanks to the Bentley Historical Library for passing these along.
The man who introduced Yost to the crowd in attendance and the radio audience was none other than the great Heston.   Here are two clips of the great Willie and in the first we have a surprise.   Before offering up his tribute to his old coach, Heston acknowledges that current student athlete and national icon Tom Harmon in the audience.  Old 98 shares the mic & even has a little back and forth with Heston that is all in all pretty priceless.
The second clip has Heston delivering his testimonial to Yost.  Enjoy:
Clip 1: Willie Heston and Tom Harmon from 'A Toast to Yost from Coast to Coast'
Play Now
|
Play in Popup
|
Download
Clip 2: Willie Heston from 'A Toast to Yost from Coast to Coast'
Play Now
|
Play in Popup
|
Download
As an aside, while I'm sure you'll be hard pressed to find another audio clip of the Harmon and Heston together but they did appear elsewhere…namely on this campaign pin for Heston [original 2008 post].   This is probably a decent representation of what each man looked like back in 1940: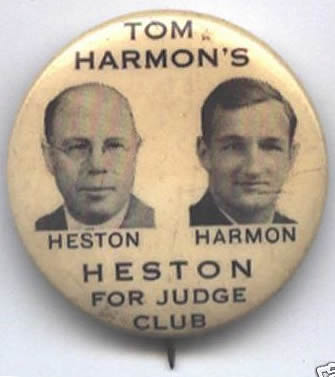 Seeing Willie
Don't ask me to point out who's who (maybe Brian can whip out a UFR), but here's footage from Willie's final game played at Regents Field in Ann Arbor, a 22-12 victory over rival (and Yost's nemesis) Amos Alonzo Stagg and Chicago.  The footage was taken by Thomas Edison's firm (note the "gridiron" – the lines painted on the field like a grid):
Follow MVictors on Twitter