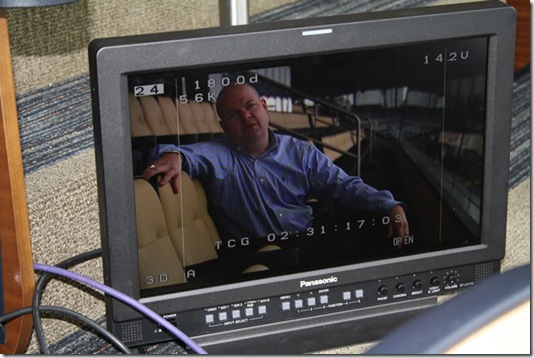 I appreciate all the kind words (and hair jokes) for the appearance on the Tom Harmon Big Ten Icons piece that has been running this week.  The last airing (before they run Archie Griffin #4 tonight at 9am) will be today at 2:30pm today locally.  You can watch the first couple minutes of the show here.
A few folks have fired over questions about the episode and I'd thought I'd summarize those here.   I addressed some of this and more with Sam and Ira on Feb 3 so check that out as well.
The biggest questions have been around how/why was I involved.  I was contacted by the producer about a month ago.  They were pulling together the episode and felt they needed more "voices" to add to the documentary.  
Keep in mind most of the interviews/comments about Harmon and the other pieces were collected a while ago.  Angelique, for instance, was interviewed during the Big Ten basketball tournament last year—they shot her in an old gym in Indianapolis.  
My read is that they had a lot about how great/dynamic Harmon was, but not a lot of detail in the Harmon story.  So—the producer asked around for names & John Lofy of Michigan Today and the great John U. Bacon suggested they contact me.   The BTN folks also contacted Greg Kinney, curator at The Bentley Library.
They interviewed Kinney and I on January 25th at the stadium on the east side.  (Kinney went before me and he was gone before I arrived).  I'm seated in the first row of one of the suites and no, I didn't have any say/choice in the manner.  This is professional outfit: they had all the angles/lighting/audio set up before I got there.  There was an 'X' on the floor by my seat.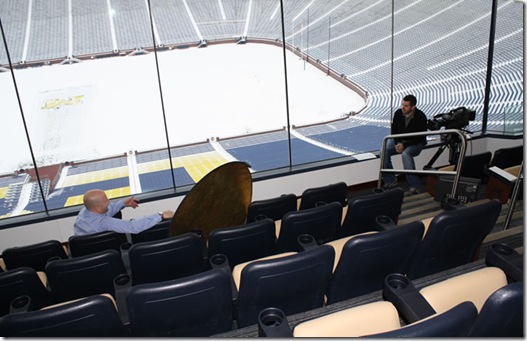 As you can see I'm about 15 ft from the producer, who's asking me questions.  I really didn't have a set script—basically we started talking about Harmon's high school prowess and went from there.  It was a little awkward at first—having watched my share of documentaries including other Icons episodes, I know they are trying to capture a critical sentence here and a key line there.  I think I tried to finesse a few key sentences at the start but that was dumb.  In the end I just tried to have a conversation.
As I mentioned to Sam and Ira, I did talk a bit about the mess going on with Kipke and the U-M program, and the possibility that Harmon was nudged to Michigan by Chicago/Gary alumni groups.  That obviously didn't air and I'm not surprised.
Bullets based on questions/comments I've received:
I intentionally wore my class 'M' ring for the interview but I wasn't consciously trying to "flash" it.   Not that there's anything wrong with that, haha.

 

I think we spoke on camera for about 30-40 minutes.  There were a couple breaks when I believe they switched tapes or whatever.
Naturally I wasn't paid for this #HALOL! 
I really wasn't sure if I was going to appear at all in the show and I was surprised how many times I showed up (13X by the count of one family friend).  Some of my comments are spliced together.
Along with the Kipke/Tulane mess, I talked a bit about the 1940 Minnesota game (Harmon missed the extra point that would have tied the game) and the 1939 game against Iowa where Harmon destroyed Nile Kinnick.   98 score every point (they mentioned that in the show) but he also picked off Kinnick for a 90-yard+ return.   I said something about how I wonder Iowa felt about Kinnick winning the '39 Heisman after watching Harmon in that game…but I don't think they wanted to entertain a Icon vs. Icon death match.
The photos above were actually taken after my interview.  Like a grandma with a camera,  I realized I forgot to get a photo during the shoot so I asked if we could go back and fake like we were still filming, haha.  One of the production guys took the shots.
A big hat tip to the work of WolverineHistorian.  I pored over a couple of the vids he took before the shoot and it really helped me prepare, and I think my comments on the Cal game run convinced them to replay that clip.  Also a hat tip to John Kryk for sending over the Ufer quote on Harmon and the 1940 Ohio State game.
I loved Bacon likening Harmon's running style to that of a water-skier.  I thought that was great.
I thought they did a great job with this show and I was proud to appear.  And I must say it's kind of cool being a part of a college football show "hosted" by Keith Jackson.  I loved the old clips of Harmon and Evashevski (especially the Harmon clip that validated my comments about how 98 felt about his teammate/captain).