Damn I wanted Denard, Treezy and crew to go out on a big note but it wasn't to be.  Michigan fans know this game can be brutal and there you have it.   USC doesn't convert on that fourth
down late in the game, or even if we wrap up Shaw and bring him down on a couple late scrambles, and it's surely over. 
I thought the defense was just inches away for sealing this game against a team we probably shouldn't have beaten.   Give Gardner credit for generally remaining cool and getting the team down the field for the go ahead score.  Lewan overall did a fine job on Clowney. 
This game will be remembered for Clowney's bomb blast, the back-and-forth nearly four hour battle and it being Denard's finale.   It was fun to be down there in the fourth quarter to watch it play out but it was just heartbreaking watching the team creep off the field and sulk during the postgame.  
For a team with no running back and a depleted secondary they still had the chance to do some great things this year but really didn't.  The highlight of the season has to be squeaking by a very mediocre Michigan State team and there's no way 8-5 can be considered anything but a disappointment despite facing 4 of the best teams in football this year all on the road.  
Michigan teams and championship teams have depth.  One man goes down, the next guy takes his post and performs.   They are not there yet but you see a broad foundation of young guys on the team and coming.  
I had a photographer on the pitch for the first time and loved the results.  We went through them pretty rapidly so I'll probably post some more.  Check them all out here:
Outback Bowl 2013 – 2nd Half Photos      Outback Bowl 2013 – Postgame
Outback Bowl 2013 – First Half Photos      Outback – Pregame Shots
More Sight and Sounds:
Raymond James – Loved the layout of the stadium, at least from my view (and I've heard complaints from those inside, so..yeah).  That said, the scoreboards are atrocious and it was tough to find a decent down and distance, but I love how they handle the ends of the field and the pirate ship and the beer garden feel.  Here's a panoramic, click to expand: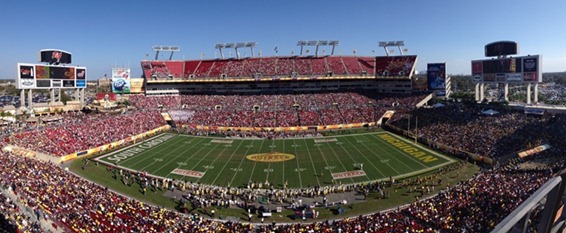 Aboard the SS Big Clownin' before the game: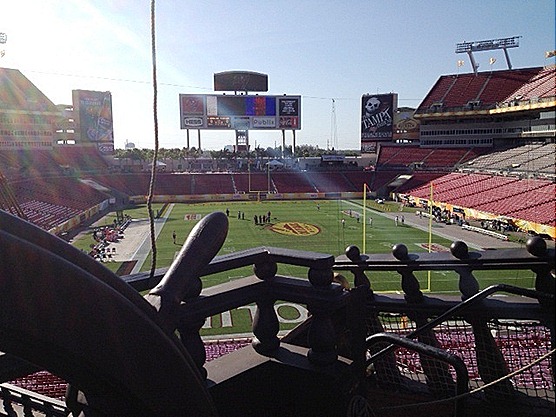 Clowney Don't Play That – I was behind the Carolina bench heading toward that end of the field when big Clownin' dropped that bomb.  It sounded like an absolute cannon shot – never heard anything like it.   Here's Clowney on the bench right after that bomb cooling off: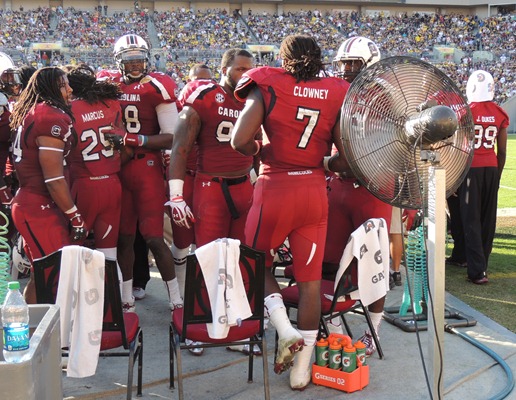 The Track – While the grass was really tightly cut it it was actually pretty damp on the pitch before the game – I assume they hosed it down in the morning.  Denard slipped several times trying to cut and while obviously both teams faced the same conditions, it seemed Michigan had more trouble. 
Hey Sixteen – Several of the USC coaches (I didn't see Spurrier) approached Denard after the game and congratulated him on his career.  Each one referred to Denard as "16".
Look for Dreadlocks – As soon as the players took the field it was clear you couldn't read the Michigan numbers from upstairs.  It was a little better closer to the field but it was brutal.  Here's a decent representation of what it looked like from up top: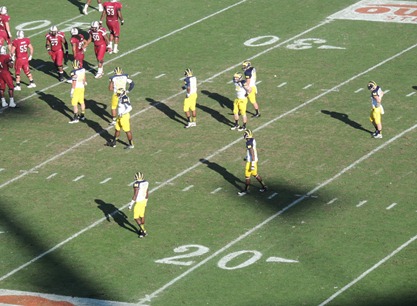 Comfy and shoelaceless:  Denard's cozy slippers, perhaps a Christmas gift?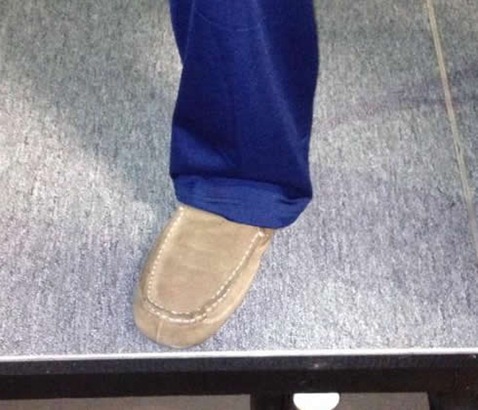 Related: