Check out the nice piece on longtime U-M golf course manager Charlie Green in today's Ann Arbor News.   Charlie last official day at the helm is December 31, concluding an amazing 52 years of services at the course.   From today's piece:
His memories at Michigan are good ones. "The athletic department has been like a second family for me," he said. "There is a warmth here, people look out for each other, and even the big shots come around and visit." Green was on a first-name basis with the people who have had buildings named after them — Crisler, Oosterbaan, Keen, Canham, Schembechler. He isn't old enough to have Fielding Yost on the list, he said.

Green recalls the day eight years ago when Bo Schembechler came to his office, sat down and said, "What's this I hear about you?" That was shortly before Green was scheduled to have open heart surgery for an aneurysm. Bo had had his share of heart problems by then. "I'm going to show everyone that I'm as tough as you are," Green replied. To which Bo said, "You're not that tough!" and got up and stormed out.

"I have met so many men, tough and hard-nosed on the outside, but, like Bo, who really cared," Green said. "Those are my memories. Now we have Brady Hoke, who went to the same high school as I did, and basketball coach John Beilein, a wonderful man. I have been blessed all the way through."
I got to know Charlie a little bit after writing this piece that appeared in the Detroit News and the Ann Arbor Observer back in 2010.  I often bump into Green at football game and at the outings at U-M.  He's just a wonderful guy and I hope he's around campus for a long time.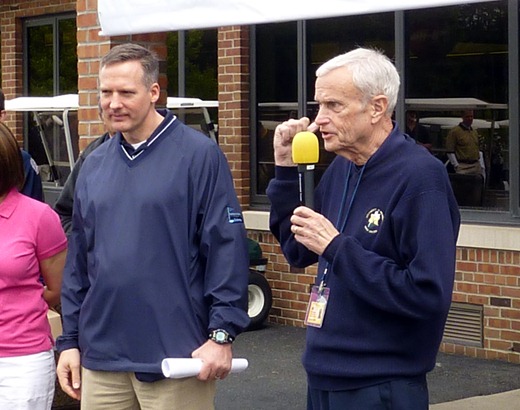 Green with former QB/DB Rich Hewlett at the 2010 JDRF Golf Outing
[My story from 2010]:
In 1954, Albert and Gail Green drove up from Dayton and dropped their son off at the University of Michigan's South Quad dormitory. Charlie Green's been an Ann Arborite ever since.
After graduating from the U-M in 1959, Green taught subjects that, he says, "make people groan"–algebra and geometry–in Willow Run and Taylor. But what made him eventually become one of the most-recognized folks in Ann Arbor was his decision in 1960 to take a summer job at the U-M Golf Course. He's been there ever since, coming on full time after retiring from teaching in 1993. He's been clubhouse manager for the last thirteen years.
Now seventy-four, he works from an office just inside the clubhouse lobby, handling staffing, payroll, reservations, and special outings. "That's enough to keep busy," says Green, who's still a lanky six-footer but says, "I'm shrinking."