Back in June 2010 I spotted a photo of Old 98 dropping what looked to be a Heisman pose for the cameras.   Well, up on eBay right now is a shot of Tom Harmon donning the winged leather doing a Denardesque in-game Heisman with some styling block 'M' socks: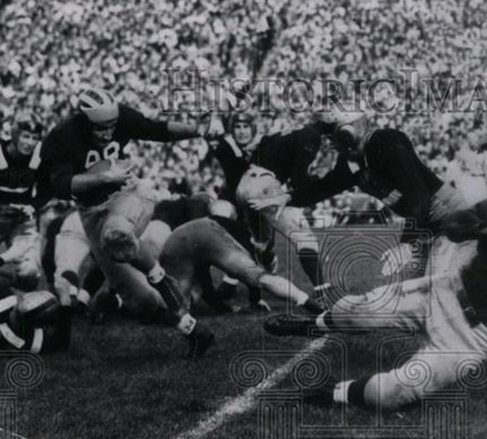 I like this one better.  While Terrible Tommy's pose in the 2010 photo looks more like the actual Heisman Trophy (ball tucked away in left hand; right arm extended), the pic above fits better with best Howard & Woodson thank-you-ma'ams on file:

You can pick up the photo of Touchdown Tommy on eBay right now, bidding starts at $24.88.
More Harmon stuff:
Why Tom Harmon Went to Michigan
Tom Harmon – Big Ten Icon #5
The Drunk and Old 98
Tommy's the BMOC
Harmon and Old Number..Six?
Tom Harmon says 'Vote Heston'
Harmon Jitterbugs with Joan & Jinx
Harmon Goes for the Gusto