[Ed. Originally posted Feb 7 2011, I'm moving this up front due to the 30th Anniversary]
I've been digging out a few interesting old stories on the periphery of Michigan football in recent days and here's another story I think you'll like.
You know Bob Wojnowski of course, the long time Detroit News columnist and the Nutter Butter-gobbling co-host of the great 'Stoney and Wojo' radio show from 1995 to 2009.
Wojo is a Michigan grad and cut his journalistic teeth at the Michigan Daily three decades ago.  In one of his final assignments as sports editor, he and Daily photographer Brian Masck became part of the story back in 1982 after they spent a few hours in a Columbus jail.
After midnight on November 20, 1982, the evening before The Game, the two were down on High Street taking in the sights and sounds with a few of their peers from The Lantern.  When a pickled reveler started cussing out the police monitoring the scene, the cops got rough–brutally shoving him up against a wall.  Masck questioned the police tactics and whipped out his camera hoping to capture the scene.
When the cops told him to put away the camera, Masck challenged the legality of such a request and was arrested.  The Daily later published this shot, the best Masck could manage: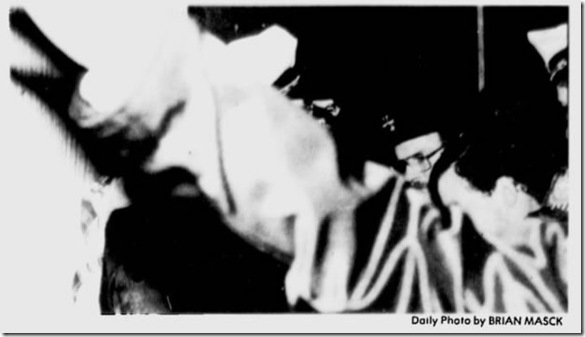 Meanwhile, Wojo saw this go down and protested Brian's arrest (and also tried to fetch the car keys in Masck's pocket).  Wojo was promptly arrested as well.
They spent a few hours in the Columbus clink before being released around 6 a.m.
Fast forward to the early 1983.   Once the "charges" were dropped against he and Masck, Wojo dropped this guest opinion piece/bomb (he was no longer editor) into the March 22, 1983 Daily.  I was going to highlight a few sections but it's too good.  For those who have heard the story before I still encourage you to read this piece of vintage Wojo from the aftermath of this incident:

I'll have a pretty interesting follow-up in the next couple days [Ed. It's posted now]. I reached out and exchanged a few emails with Masck about all this and he shared some great stuff.  I asked him (not being snarky, I was generally curious) why he had his camera at with him at 1am-ish on High Street, back when cameras didn't fit in your pocket of course.   You'll love his answer.
Related:
Part II:  High Street Blues ('82 Daily arrests – Part Two)
Follow MVictors on Twitter