The final decals of the year delivered by Steve "Dr. Sap" Sapardanis.  Well done Sap!  I added the editor's pick for sweaty Harbs.
For me, a ten win season is top notch.  Only the best teams in Michigan Football history can say they had a double-digit win season.  For this team to finish with a Citrus Bowl victory and possibly a top ten national ranking, is a testament to their work and improvement each week.   What can you say about this coaching staff?  Jim has assembled a tremendous group and the way they dominated this Gator squad spoke volumes to their preparation and in-game management and execution.
To the seniors who stuck around and stayed – you are Champions!
Speaking of, here are your Citrus Bowl Game Champions:
OFFENSIVE CHAMPION – Hands down, Jake Rudock was the straw that was stirring the Michigan Offensive drink today.  The turnaround in his play from the beginning of the season to the Citrus Bowl against Florida was remarkable.  It brought to mind two other amazing QB head-turning performances that I can recall in Michigan Football history: Steve Smith in 1983 and Tom Brady in 1999.  Once Smith had his harness removed from a separated shoulder earlier in 1983, #16 responded with three amazing performances to finish his career as a Wolverine.  Tom Brady became Tom Brady in the last three games of his Wolverine career as well.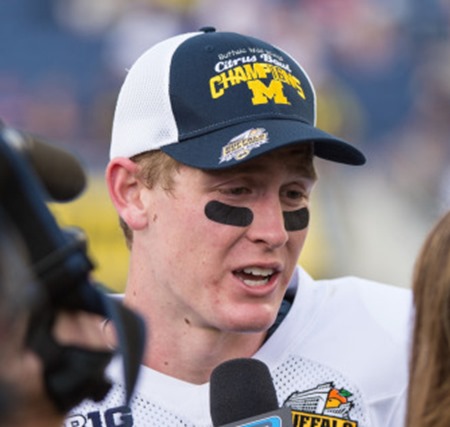 Performances against Penn State, Ohio State and Alabama showed everyone why Lloyd Carr wanted #10 to just wait for his turn for good things to happen.  Can you imagine what Jake Rudock would be like after spending 3 or 4 years with Harbaugh and this staff?  While we won't see it with Rudock per se, I have a feeling we will see that metamorphosis with the next Michigan QB.  Can't wait!  When Rudock was interviewed after the game by Dr. Jerry Punch and he informed #15 that he was only the second QB in Michigan history to throw for over 3,000 yards in a season, you could see Rudock get choked up – awesome!  While he was the QB for just one season, Jake Rudock left an indelible mark on Michigan Football.  Thanks for a great and memorable year to the guy his teammates call "Dad!"
DEFENSIVE CHAMPION – The entire D-Line played outstanding against the Gators, today.  Guys like Chris Wormley, Taco Charlton, Maurice Hurst, Jr. and Royce Jenkins-Stone looked like an SEC line that just stuffs the run and forces the opponent to be one-dimensional.  I love that formula for defensive success and if that is a sign of things to come, look out – that just makes the rest of the defense that much better.  I don't see much drop off in play for the defense next year and that bodes well for tough games on the road at East Lansing and Columbus in 2016.
SPECIAL TEAMS – We all knew that Kenny Allen had quite the leg this year.  His field goal accuracy this season was outstanding and he showed that against Florida on Saturday with two more three-pointers.  But what surprised me was two things – (1) Michigan only punted once in this Buffalo Wild Wings Citrus Bowl and (2) Kenny Allen boomed that punt 57 yards!  Holy Schnikees that was impressive!!
UFER FAN CHAMPIONS – As I watched the game on TV, I was thrilled to see so much maize and blue in the stadium on Saturday.  But what made me smile was the "Let's Go Blue" chant I heard from the Michigan faithful in the stands.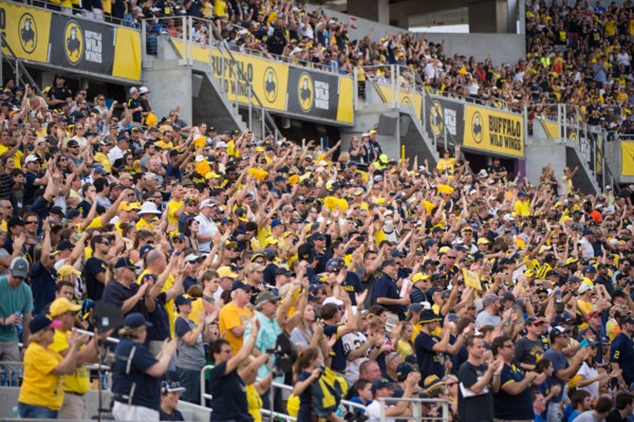 Via mgoblue.com
I can't EVER remember hearing that at a Michigan Bowl Game.  That was great to hear!  As Ufe would say, "God bless your cotton-pickin' maize and blue hearts!"
EDITOR'S CHOICE:  To Coach Harbs, for wearing his coaching M sweatshirt the entire game in the Florida heat.  It was drenched and wrapped around him like foil midway through the 2nd quarter: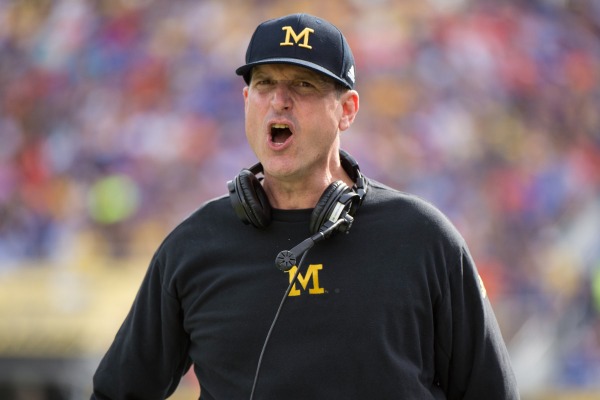 Bad call!  But he didn't flinch and wore it the whole game, and according to Niyo, even the entire week during practice.  I was in Florida – it was hot bro!
Decals dealt out in previous weeks:
Utah: Jake Butt, Jabrill Peppers, Blake O'Neill, (Uniform: White Road Uniforms), John Kryk
Oregon State:  De'Veon Smith, Chris Wormley, Delano Hill, The Coaching Staff
UNLV:  Ty Issac, Channing Stribling, Blake O'Neill
BYU: Jake Rudock, Defensive Line, Jabrill Peppers, (Uniform: Properly Hiked up White Socks), Amara Darboh
Maryland: Drake Johnson, Desmond Morgan, Kenny Allen, (Uniform: Blue lyrca leggings).
Northwestern: Jehu Chesson, Jourdan Lewis, Offensive Line, (Uniform: Maize and Blue gloves).
Michigan State:  No Champions
Minnesota: Wilton Speight, Michigan defense, Jabrill Peppers, (Uniform: Stickers crossing the stripes! :O)
Rutgers: Jake Rudock, Taco Charlton, Jim Harbaugh
Indiana: Jake Rudock, Jehu Chesson, Delano Hill, Jourdan Lewis, Coaching staff, (Uniform: #CHADTOUGH on helmets)
Penn State: Jake Rudock, Jourdan Lewis, Taco Charlton, Michigan Coaching Staff
Ohio State: Jehu Chesson, Jehu Chesson again (Special Teams)
Florida (Citrus Bowl): Jake Rudock, D-Line, Kenny Allen, the Michigan Faithful in Orlando, Coach Harbaugh
Follow MVictors on Twitter