Since the turn of the last century, as I see it the Michigan coaching hires have fallen into 2 buckets:
Legacy Hires > under the Michigan Man umbrella, these are guys with playing and/or coaching experience in Ann Arbor before they took over. (And FWIW a lack of outside heading coaching success).
Hired Guns > gents with head coaching "success" (let's call it .550 or better) at other college programs but no previous coaching or playing experience at U-M.
Harbaugh is the first hire that really falls on both sides of this divide, having had both college (& NFL for that matter) head coaching success along with U-M ties as a player and alumnus. A breakdown*: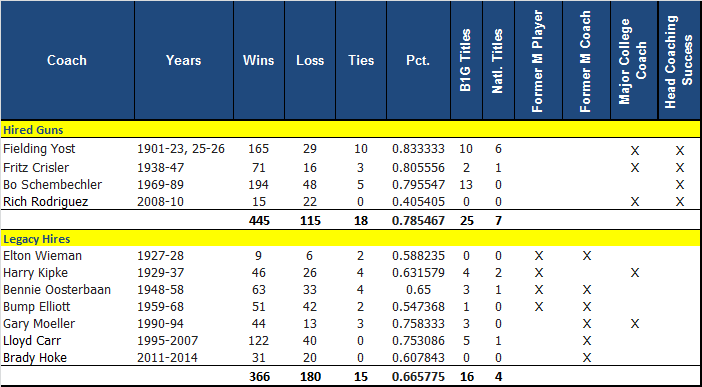 * I removed George Little who kinda/sorta coached U-M for one season in 1924 while Yost took a breather, and ok, if I moved the mendoza line for "success" down to .500 Hoke gets a check.
A few thoughts:
Of the 4 Hired Guns, I think Ivan Maisel of ESPN got it right, comparing this hire to that of Fritz Crisler who won two national titles at Princeton before taking over in Ann Arbor:
For one thing, Harbaugh is the most successful head coach Michigan has hired since it swiped Fritz Crisler from Princeton in 1938. All Crisler did in 10 seasons in Ann Arbor was slap the wings on the helmet, invent two-platoon football, go 71-16-3 (.806) and finish with a 10-0 record in 1947.
The next highest profile hire would be Rodriguez (on the brink of a national title shot at WVU), then Yost (short term dominance wherever he went), then Schembechler (Bo who?).
Speaking of Yost, he didn't have the reputation of Crisler or even Rodriguez because in 1900 he still just didn't have the name out there to attract him to the major college programs. Michigan found him thanks to a lead from Illinois (Yost had applied for the gig in Champaign in December of 1900—thank goodness they didn't bite). I found this short clip in the 1934 Michigan Alumnus where Charles Baird, the AD who hired Yost, described how he found him: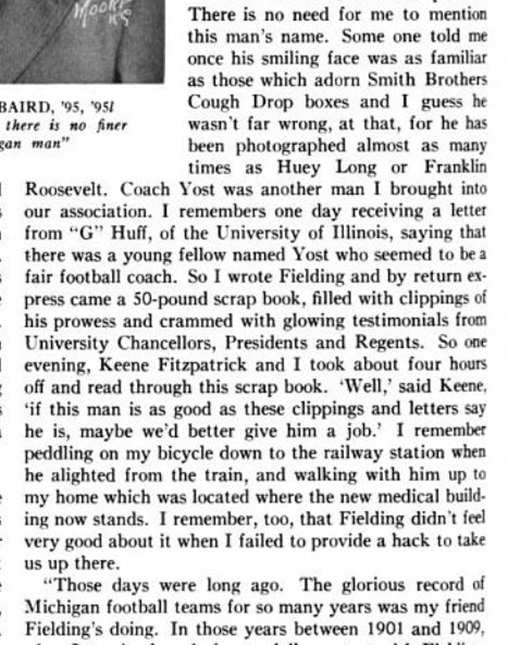 Damn, Yost was a beauty.
Follow MVictors on Twitter
Related: