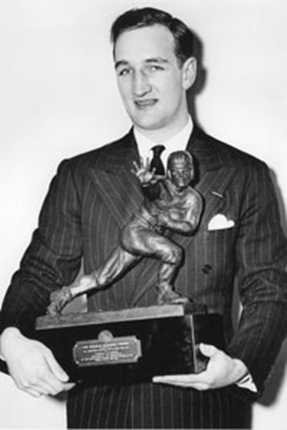 Did you know it was 75 years ago Saturday that it was announced Tom Harmon had won the Heisman Trophy?  Indeed, back then they voted, announced the winner and held a ceremony to honor the recipient at a later date.   So Saturday's edition of #TWIMFbH talks a little about Old 98 and his finer moments on the gridiron (and off):
Tom Harmon wins the Heisman
Play Now
|
Play in Popup
|
Download
Yes, in the radio clip I said Harmon "gave birth".  Ira busted my chops after that and wouldn't let me edit it (to say "sired" or "fathered" which is probably a little more accurate, although I wouldn't be against Harmon in life).
Readers know the 1940 Cal game is one of my favorites; especially the drunk fan incident.  More here and my tribute:
You can listen to all 6 years of This Week In Michigan Football History here.  And don't forget to catch the whole KeyBank Countdown to Kickoff on WTKA 1050AM starting at 8am tomorrow, and of course live in the Bud Light Victors Lounge across from the Stadium on Main Street.   See you out there.
Follow MVictors on Twitter