I don't if Harry Kipke liked to be photographed, or whether the press chased him around a lot but, brother, there are always a lot of interesting photos of the former Michigan All-American player and coach on eBay.  
Just right now you can find photos of Kipke in scenes that have nothing to do with football—[left to right above] on vacation with his wife in Florida chilling in a bathrobe, hanging out with golfing legend Gene Sarazen, and most frequently, Kipke on his boat sailing or hanging out with other people who love to sail.  I don't know if there are any Kipke family historians out there, but I'm guessing you can piece together Kipke's life (certainly in the 1930s and 1940s) through solely the lens of newspaper wire photos that pop up on eBay.
Here's my favorite and this might end up in my man cave.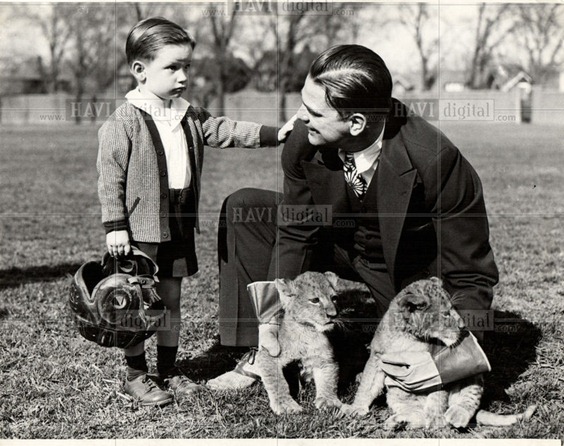 Taken in May 1935 (notably after the horrific '34 season), on the left that's Kipke's son holding what you have to assume is a leather Michigan helmet.  Kipke is kneeling in a sharp 3-piece suit with a flower tie as he tangles with two baby lions at his feet.   Harry's no fool—note the protective oven mitts. 
So what's the deal with all of this?   First, chalk this up to a day in the life of Harry Kipke, who clearly had photographers wherever he went.   I scanned the free newspaper archives but couldn't find anything.   If I had to guess, Kipke and his son are at an event, perhaps a graduation party or something, at the estate of his pal Harry Bennett.  As posted on these pages before, Bennett was Henry Ford's enforcer and lived off Geddes road near town, and yes, he was known to keep lions and tigers on the property.
Ships Wheel
While I'm on the topic of Kipke I have to share photo and note sent over by reader Bob.  First the photo: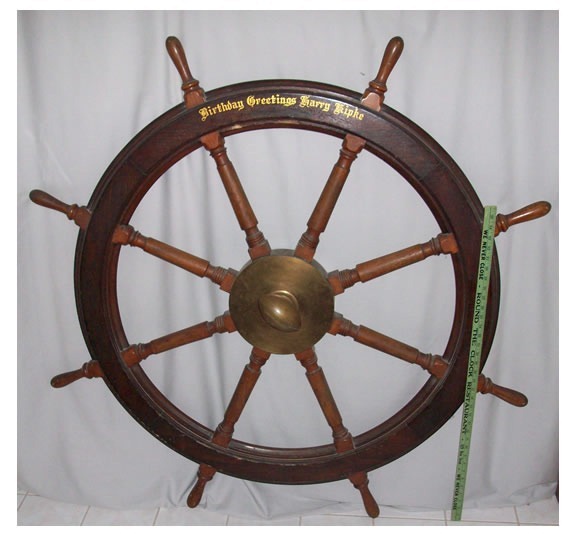 Here's the backstory from Bob:
Hi, I am looking for information on a item I bought from Harry Kipke's estate. It is a very large ships wheel with a football welded to the center. It has gold leaf writing which says "Birthday greetings Harry Kipke".   It was hanging at the bottom of the basement stairs going into the billiard room. It is said H.K. was good friends with Henry Ford, Roy Firestone and Tom Edison and they often hung out there…I was also told the wheel may have been a gift from one of the Ford's (Henry or Gerald). The wheel is 52? tall and in great shape. What I would like to know is who gave it to him and what birthday did he receive it…It is a honor owning it but feel it should be in a place more people can see and enjoy it.  Any thoughts as to where it should go?  If so what's it's value?   A local guy says 5K plus but I just don't know.
So first off, I have no idea how much something like this would be worth.   It's one-of-a-kind and you'd have to find someone who's interested in both sailing, history and Michigan football [mgoshoe?!] to even approach finding a price for this thing.  If someone's got a truly unique collection this might look nice on the wall, but it is so tough to say.  For starters I'd want to know who gave it to Kipke, whether is an actual from a ship (or if was it created solely as a gift for Kipke—likely, given the football affixed in the center), and the manufacturer. 
Related:
* 1933 and the Dickinson Formula
* Harry Kipke and the Fall of 1934
* Jesse Owns and Gerald Ford (1934)
* The Willis Ward Protests (1934)
Follow MVictors on Twitter.   Check out MVictors on Facebook.