Monday the BTN revealed that Old 98 Tom Harmon will be the next athlete featured in their Icons series.  The Harmon segment will appear on Super Bowl Sunday at a special time: 2:30PM (it will re-air again at 9pm). 
Continuing the discussion of items you might not know about Harmon.  In the last post I mentioned his high school athletic prowess at Horace Mann high in Gary, Indiana.  An interesting question is why he ended up at Michigan.  Three factors would suggest that Harmon might consider a different destination during his senior year of 1936-37:
Harmon had brothers who were athletes at relatively nearby Purdue & another who landed at Tulane.
Michigan football was in the middle of a horrible stretch, coming off the worst 3-year span in school history from 1934-1936.  (And still the worst three year stretch, thanks Brian for having my back.)   He was walking into a serious rough patch and head coach Harry Kipke was under fire. 
The powerhouse at the time was jug rival Minnesota, with Bernie Bierman's Gophers rolling up a string of 3 straight national championships.  Nearby Notre Dame and coach Elmer Layden had some decent teams in the mid-1930s as well.

One disclaimer: I'm not a Harmon biographer of course.  These thoughts draw upon what I've read over the years (which isn't everything).
First, the cynical view of why he ended up in Ann Arbor:  It was alleged that Harmon benefited from a little financial "help" from the Gary and Chicago U-M alumni groups and this nudged him to Ann Arbor.  This is something Harmon and the groups vehemently denied.   When an investigation of illegal alumni support of 5 freshman (including Harmon) kicked in during his first year on campus, word got out that Harmon might bolt to another school most publicly Tulane (where he could get a scholarship).  He stayed of course and thrived under new Coach Fritz Crisler.
The non-cynical view:  THIS IS MICHIGAN!  Despite the tough stretch U-M was a still a great football power with two national titles in the decade under Kipke.  On top of this and perhaps more importantly, Harmon's high school coach Doug Kerr suited up for the Wolverines in the late 1920s and he seemed to be a strong influence.   When it was learned that Harmon was staying in A2 after Tulane-gate*, one of the reasons cited was his relationship with Kerr.  Harmon also had thoughts of becoming a broadcaster after college and Michigan offered an top notch education to help make that happen.  Remember, back then "going pro" wasn't an automatic given the choice.
There are a few thoughts, you decide.  In the meantime, here's Harmon the BMOC: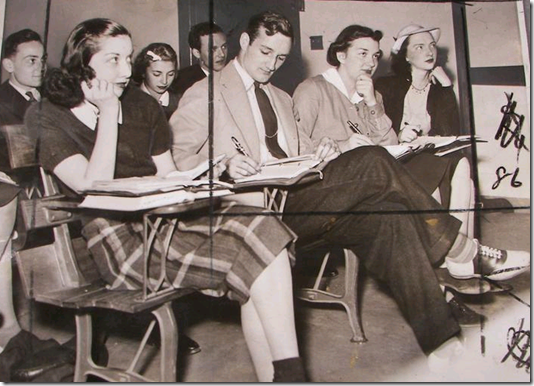 * Yes, I'm dropping a –gate on something three and a half decades before Watergate.
Follow MVictors on Twitter