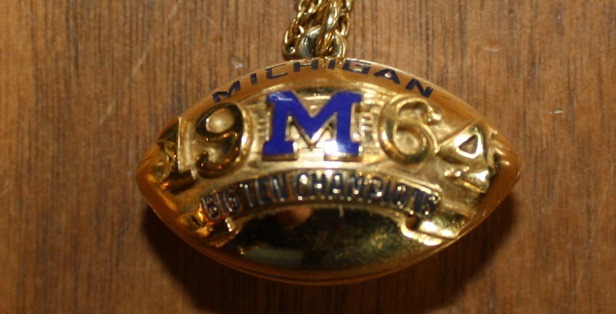 51 years ago this fall your beloved maize and blue were beginning a very special season. This Week in Michigan Football History talks about the brilliant 1964 Wolverines, and specifically, a match-up with reigning Heisman winner Roger Staubach, Duffy Daugherty and the powerful Spartans, and Woody and the hated Buckeyes:
Standard Podcast
Play Now
|
Play in Popup
|
Download
Much, more more on the great 1964 team here:
You can listen to all 6 years of This Week In Michigan Football History here. And don't forget to catch the whole KeyBank Countdown to Kickoff on WTKA 1050AM starting 4 hours before each game, and of course live in the Bud Light Victors Lounge when they lace them up in Ann Arbor.
Follow MVictors on Twitter
/script
One of benefits of having the winningest program in football history is that we get to celebrate many milestones. Last season coach Bump Elliott and many members of the 1964 Wolverines were honored in the Big House to commemorate 50th anniversary of their championship season.
That special year began in Ann Arbor on September 26 with a convincing 24-7 win over Air Force. The following week Navy and quarterback Roger Staubach, the reigning Heisman winner, returned to town.
In 1963 the mobile QB had torched U-M for over 300 yards of offense (back when that was a huge deal) in a 26-13 victory for the Midshipmen. This time Staubach didn't live up to his Roger the Dodger moniker as the Wolverine defense suffocated him early on. A bone crushing hit delivered by big Bill Yearby and Captain Jim Conley – basically ended the game and hobbled Staubach the rest of the year. Michigan forced six turnovers and won 21-0.
That brings us to this day in Michigan Football History – October 10, 1964. That's when the 7th ranked Wolverines headed up to East Lansing to face Duffy Daugherty and his powerful Spartans. Those were dark times in the Paul Bunyan rivalry, and you had to go back nearly a decade since the Wolverines beat not-so-little brother.
Trailing 10-3 midway through the fourth, a Rick Sygar touchdown run put Michigan within a point, but Bump's attempt for 2 and the lead was stopped short. But there was still life, as the defense forced a stop, and quarterback Bob Timberlake and Michigan rumbled into Spartan territory. Bump reached way down into the playbook for a trick play. Sygar took a pitch on a run, but then completely sucked the air out of Spartan Stadium when he pulled up—and tossed the pigskin to receiver John Henderson who dashed the rest of the way. This time Bump's two-point try worked and Michigan went onto to a 17-10 victory.
In the regular season finale Michigan traveled to Columbus and shut out Dr. StrangeHayes and the Buckeyes 10-0 to earn a trip to Pasadena. In the Rose Bowl, after surrendering an early touchdown to Oregon State, your beloved Wolverines throttled the Beavers and triumph 34-7, thus restoring Michigan's rightful place atop the college football world.