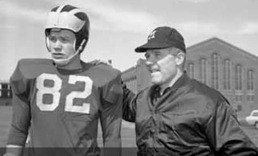 Ed. On Saturday the 1964 championship team will be honored during the Minnesota game. Earlier this year I spent a couple hours with the (lone) captain on that squad, Jim Conley. The full version of this story is available in mgoblog's wonderful annual Hail To The Victors mag. Given it's their week, here's a tighter and yes, less spicy, version of the story of that great season.
See Part I: Starting from Nothing

The Season
Following Conley's direction the team returned ready to go. More than that, they were ready from something more—they were hungry.
A few players made personal sacrifices that fall to help stay focused. Conley gave up drinking—at least for the most part. "OK, I slipped a couple of times on a Saturday night after we won. But for the most part I didn't do it." Other guys on the team made more challenging sacrifices—like steering clear of the ladies before games.
The 1964 season began in Ann Arbor on September 26 with a convincing 24-7 win over Air Force. The following week Navy's Roger Staubach, the reigning Heisman winner, returned to town. The rematch game got national attention but there was a lack of local media coverage—all season in fact–thanks to a Detroit newspaper strike.
In 1963 the mobile QB had torched U-M for over 300 yards of offense (back when that was a huge deal) in a 26-13 victory for the Midshipmen. Many, including Conley and Elliott, feel Staubach effectively won the Heisman due to his performance against U-M in '63. This time Staubach didn't live up to his Roger the Dodger moniker as the defense suffocated him early on. "Basically we ended his college career," Conley recalled. "Bill Yearby and I met him at the sidelines, more Yearby than me, and nailed him. He should have got out of bounds and I was disappointed he didn't. That was the end of him."
With Staubach grounded, Michigan forced six turnovers and won 21-0, paced by a pair of TDs by back Carl Ward.